When I bought my first pair of Howard Leight Impact Sport shooting earmuffs I was pleasantly surprised and felt that I had gotten a better product than I paid for; that doesn't happen very often. After having used them for more than 6 months I am still a big fan. I believe that they are one of the best earmuffs you can own without spending at least $150 and I know from experience that there are $200 electronic earmuffs that do not perform as well.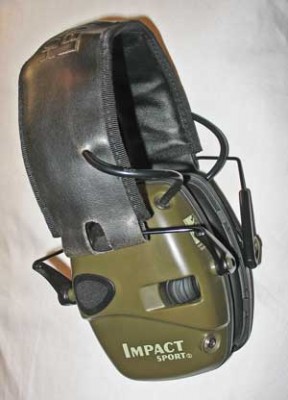 I have used the Howard Leight Impact Sport earmuff in many different circumstances. In the six months that I have owned them they have been beaten and abused around the range, rained on in a NRA Highpower match, snowed on, used in below zero weather, left on for days, and they still work and are using the same pair of batteries that they originally came with.
The Howard Leight Impact Sport Earmuff does an excellent job of amplifying sound. It has built in stereo microphones that are adjusted for volume by a single low profile on/off volume wheel. The Impact Sport is designed to be directional and they do a pretty good job of letting you know what direction the sound is coming from. I can hear my cell phone ringing at the range every time! The acoustics are better than I would have ever imagined for the price. They do a very good job of producing accurate amplified sound.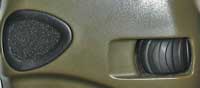 The built in stereo microphones \are adjusted for volume by a single low profile on/off volume wheel.
We shooters all have habits, things we do or don't do, that prevent us from shooting at our best. A very common problem for shooters both young and old is flinching. I am a firm believer that flinching is twofold. The first reason shooters flinch is because of recoil. The second reason is because of muzzle blast and noise. It's my opinion most people shoot better when there is very little noise or muzzle blast. If I am shooting more than 20 rounds through a magnum rifle or handgun caliber I always wear foam earplugs inside earmuffs. The Impact Sports are no different. However, with them I can turn the amplification up loud enough to still be able to carry on a conversation or hear range commands. The Impact Sports have an automatic cutoff at 82 dB and either a continuous sound or an impulse will trigger shutoff. 85 dB is commonly accepted as the level at which permanent hearing damage starts due to about 8 hours of exposure. It should be noted that 130 dB is about the level at which pain occurs: a 12 gauge shotgun is approximately 156 dB, a .44 magnum is around 164 dB, and a ported rifle is generally over 170 dB. The point is that the Impact Sports are set to reduce amplification to a safe level.
As far as hearing protection they are rated at NRR 22 (NRR stands for noise reduction rating and is in decibels). I wish they were rated a little higher but many of the $200 amplified hearing muffs are rated at only 23-25 NRR. I personally believe 1-3 NRR points to be almost negligible when you consider the price difference.
The Impact Sports are very slim and sleek, leaving you with the ability to shoot from any position comfortably. I have used many earmuffs that wouldn't let you get a good cheek weld on a rifle because of how bulky they were. The Sport Impacts don't have this problem.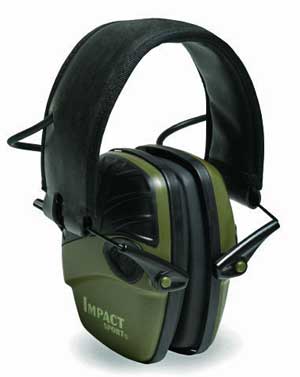 Some earmuffs are too thick and wide and make it difficult to get a proper cheek weld on a riflestock. The Impact Sports are thin enough not to get in your way in any position.
The headband is fairly easy to adjust and will adjust to fit all head sizes. My 2 year old daughter wears them comfortably.
A great feature engineered into the earmuffs is that they will automatically shut off after 4 hours. I don't know how many times I have left these on and found them a week later shut off and with the batteries as fresh as ever. These earmuffs are rated at up to 350 hours of use on a pair of batteries. I'm not sure if they will really last that long but I do know I have used them a lot in the last 6 months and they show no signs of quitting. They require two AAA batteries that are included in the original packaging. The batteries are easy to install or replace.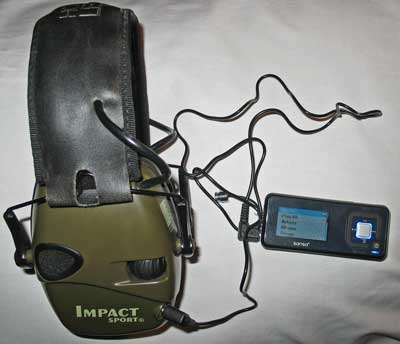 The Impact Sport has a 1/8 stereo female input jack that you can use with any cooperating device. Ipods, mp3 players, two-way radios, and cell phones are just a few of the things that you can plug in (you can hear two-way radio's fine without plugging them in just through the amplification).
I won't tell you that they are the best sounding earphones for listening to music, but they are not bad. Also, the amplified sound feature still works while you are listening to music. If turned up too loudly, the microphones on the headphones can inject white noise. I am told that range instructors in the middle east use this feature to listen to music as they need hearing protection but get bored spending 8 hours a day standing around listening to gunfire. They come with the required connection cable.
The Impact Sports are advertised as being water resistant. I didn't dip them in a bucket of water but have shot through a rainstorm at an NRA Highpower match where everything got drenched and they still work fine.
Visually they look nice with army green earcups and black synthetic leather headband. They are comfortable to wear, no pinched or sore ears. They fold up for easy carrying or to fit better in your range bag.
Overall, I am very impressed with the engineering, quality, user friendliness, battery life, comfort, acoustics, and price. Suggested retail is $69 but they can be purchased for just over $45.
I wish they would turn up a little louder for when I am also wearing foam earplugs and I wish they were rated a little higher than 22 NRR.
The Howard Leight Impact Sport is an excellent product for the price.