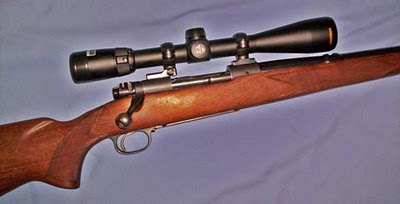 The Nikon
Buckmaster
4.5-14 side focus scope was introduced in 2005 along with a totally new line of
Buckmaster
series scopes. Since their introduction the Nikon
Buckmaster
has become known as one of the best values in middle priced rifle scopes. I bought one last year that has a
BDC
reticule, which has holding points built into the reticule to allow for holdover out to 500 yards on a standard caliber and 600 yards on a magnum caliber. I have been impressed with the scope since the day I received it.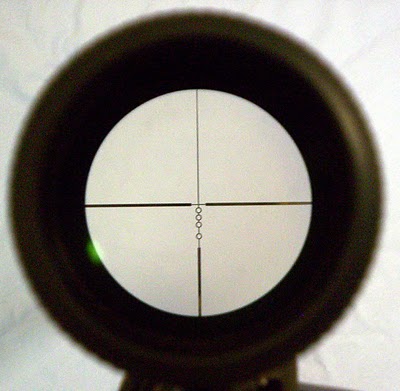 The BDC reticule is a very good bullet drop compensating system and makes hits on big game out to 500 yards possible.

Last year I was looking for a scope to shoot long range with that was not very expensive. This scope fit what I was looking for and it was less than $250. When I first began looking through the scope I was very impressed with the brightness and clarity of the optics. Nikon claims that this scope has 92% light transmission which is very good for a scope in this price range. It also has 3.6 inches of eye relief and a
field
of view of 19.9-6.8 ft. at 100 yards.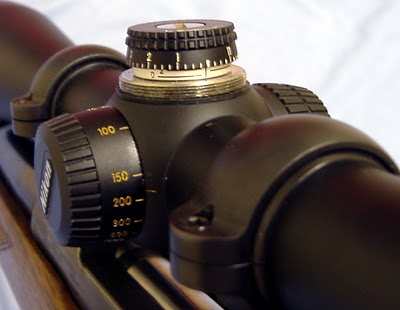 The Nikon has finger adjustable turrets that are low profile and have a scale to count the number of turns up the turret is. The side focus parallax adjustment is very visible and easy to use.

I was invited to shoot in the Idaho State 1000 yard F-class Championships last summer so there would be enough competitors to help run the targets. I really
didn
't have a rifle that was setup for F-class so I participated just for fun. I put this scope on my
sporter
weight
Pre
-64 Model 70 Winchester that was chambered in 30-06. I mounted it in Burris Signature rings and shimmed the rear base so that the scope was sighted in 15
MOA
up from the bottom of its adjustment travel at 100 yards. The scope has 58.5 minutes of elevation travel so this gave me plenty of room to move the zero up 30
MOA
to get a 1000 yard zero and not have the adjustments so maxed out that they
wouldn
't be consistent.
I ended up placing 2nd in the open F-class. I don't really attribute this to any extraordinary skill on my part because there were only four other shooters and only one of them had a real F-class setup. However, the person who took 1st was shooting a heavy open F-class rifle in 6.5×284 with a Nightforce scope and he only beat me by six points. I feel like part of the reason I was able to shoot as well as I did was because of this Nikon scope. It tracks very well for the amount of money it costs and it has zero parallax once the side focus is dialed in for the range you are shooting.
I have kept this scope on my Model 70 which is my primary hunting rifle. I used it all hunting season last year and had no problems with it. It was rained on, used in sub-zero weather, and rode around in the gun scabbard on my four-wheeler; it never fogged up or lost point of impact. The only complaint I had with it is that the eye-piece adjustment would spin from carrying the rifle against my body and I had to constantly re-adjust it. I fixed this by wrapping electrical tape around it.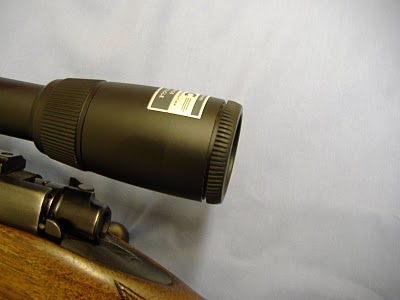 The eye-piece has a fast focus ring that works very well. The only draw back to it is that it turns easily while carrying the rifle. To solve this electrical tape can be wrapped around it.

With the scope mounted on my Model 70 I did some tests to see how well the scope tracked. I drew a plumb line vertically through a target and a level horizontal line. I set the target up at 50 yards, sighted in the rifle, and then moved the scope elevation up in 10 minute increments shooting a shot at each setting up to 30
MOA
. I then adjusted the scope down in 10 minute increments shooting a shot at each setting. I went trough this cycle until there were 3 shots at each setting. On the last cycle up I shot two shots at each adjustment.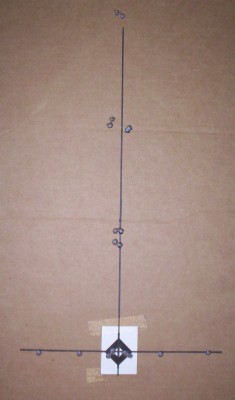 This is a picture of the target that was used to test how well the scope tracked. The scope tracked very well. I feel that the

inconsistencies

were shooter error, the four shots on the

diamond

were shot without adjusting the scope for the whole group. I was getting frustrated because I just shot a group that was right in the center of the diamond, but after I set up this target I kept pulling them to one side or the other. 1.08 inches equals 1

MOA

with this scope.

The scope tracked very well; each of the groups at the 10 minute increments were evenly spaced and within the accuracy of the rifle and shooter. I wasn't shooting very well towards the end and pulled shots to one side of the line or the other and up and down, but that is not the scopes fault. I also tested the windadge adjustment of the scope in 4 minute increments. The scope performed very well.
I think that this scope is a very good value. I would feel comfortable dialing in shots on game out to 600 yards with it and the BDC reticule can be used out to 500 yards with enough precision that a good rifleman could be deadly on big game with it. It definitely tracks well enough to shoot targets and rocks out to 1000 yards. The only complaints I have about it are that I wish it had a little better field of view and was 4-16 power. It is a tough scope to beat in the $200-$300 price range.