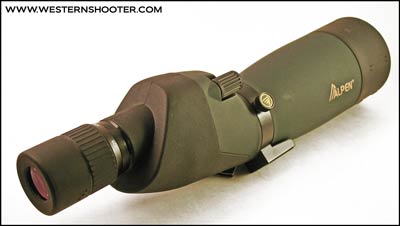 With world and local economies looking bleak, we are all looking for ways to save money while getting the best products we can afford. Alpen has been and continues to be a leader in products that offer excellent features, quality, reliability, and performance while maintaining extremely low prices. When compared by price to other optics, Alpen's optics often far exceed name brand products in performance. This means that if you spend $400 on an Alpen product it will probably be better than other name brand products that cost $400. You might have to spend $600 to get something of equal value and you might have to spend $800 to get something noticeably better.
We recently had the chance to run an Alpen 786 20-60×80 Spotting Scope through its paces. We were very pleased with the results.
Quick Specs
Close Focus (feet) – 24/30
F.O.V. (ft@1000
yds) – Low/High – 115/55
Lens Coating – Fully Multi-coated
Waterproof/Fogproof – Yes
Optics
Optical Clarity is excellent. This is where this scope excels. It has far better optics than anything else I have seen in its price range and it is much better than scopes costing several hundreds of dollars more. The scope uses Bak4 lenses that are fully multicoated. The Spotting scope tested was easy to focus and created a very bright, clear and contrasting image. Bullet splats on a steel target as well as the orange twine holding it up could be seen at 1000 yards. I'm not saying you could count the bullet splats, but you could see they were there. The image quality and resolution are excellent.
Eye Relief
The Eye Relief is my only complaint about this Spotting scope. As you turn the power ring up the eye relief disappears. On 60 power you have to get very close to the eyepiece. To be fair this would be a complaint I would have with all spotting scopes in the price range. I'm not sure it's any better or worse than anybody else's. I recently looked through a $695 spotting scope that wasn't any better than this one for eye relief. On the lower powers the eye relief is usable. Be warned, you will have to pay a lot more money to get excellent eye relief through the power ranges.
Focus Ring
The focus ring is in the configuration I prefer. I have used spotting scopes that have the focus on the eyepiece and they drive me crazy. The focus ring is in a natural place to use and does an excellent job of getting the picture in focus with a minimal amount of effort and without shaking the scope so badly that you lose the object you're focusing on.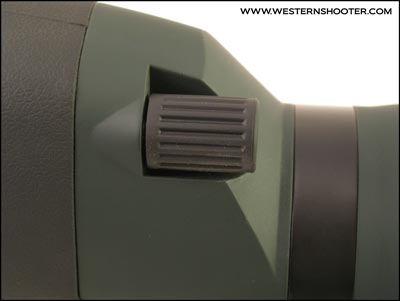 Power Ring
The power ring is on the eyepiece and works as you would expect. This particular model has a power range of 20x-60x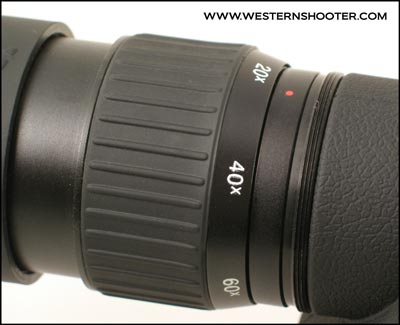 Eyepiece
The model tested was the straight eyepiece version. Alpen offers the same scope in a 45 Degree eyepiece (model 788).
Accessories and Features
The 786 comes with a built in sunshade and dust caps. You don't have to carry around extra gear or worry about dust or debris ruining your lenses. You also get a soft foam carry case.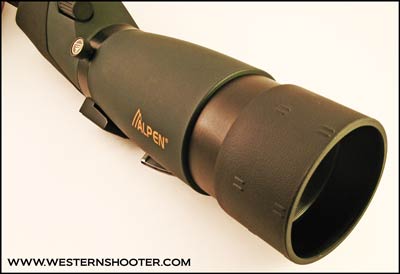 The Alpen 786 has a built in sunshade. It slides out when you need it.
The 786 is available in a kit. The kit includes a tripod and nice aluminum locking case.

Durability
The Alpen 786 is waterproof, shockproof, and dust resistant. I personally like the feel of the rubber armor. The spotting scope is also nitrogen filled, a feature that is of great importance in cold climates. Several years ago I had a brand new, brand name spotting scope that was waterproof but not nitrogen filled. The first night of the elk hunt was well below freezing. Even though the spotting scope was waterproof, the condensation froze inside the scope making it impossible to see through and caused internal parts to break when focused. Get a scope that is nitrogen filled.Warranty
Alpen has a Lifetime Warranty against defects and workmanship.
Conclusion
This is a great spotting scope. I especially like the optics. This product redefines value.
We found this product available online for $390.00
Visit Alpen Outdoors