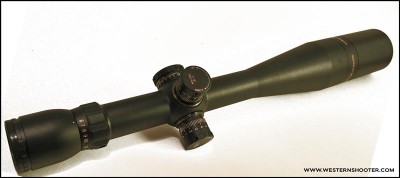 New Model (2008) Sightron SIII SS 6-24X50 LR MD
If you weren't already aware, in 2008 Sightron announced and released a new line of SIII 30MM Long Range scopes. Currently they're available in 3.5-10X44, 6-24X50 and 8-32X56.The scopes come with options for Mil-Dot, Dot, Plex, and Illuminated reticle. They also come standard with target turrets that have dust caps!
Sightron has been around since 1993. They have always been dedicated to making quality optics. Their optics are manufactured in Japan and quality Japanese optics are on par with quality American made optics. As of the date of this review Sightron manufactures nothing in China. That is something that cannot be said for Leupold, Nikon, or Burris.
Prior to writing this review, both authors owned old model Sightron SIII SS 6-24X50 30MM scopes. We couldn't have been happier with them. When we found out that Sightron was coming out with a new improved model we were a little skeptical because the model we owned was already an excellent scope. While there is nothing wrong with the old model, it is our opinion (we'll back it up) that the new model is far superior to the old.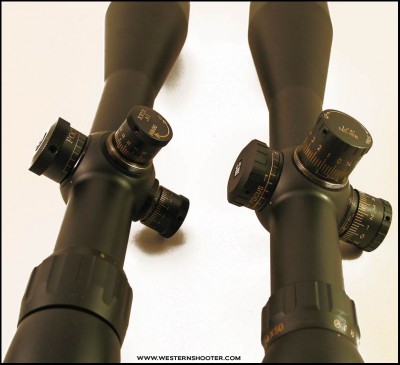 On the left is the discontinued model SIII SS 6-24X50 and on the right is the new SIII SS 6-24X50 LR model.
Quick Specs


Model – SIIISS624x50 LR MD
Magnification – 6-24X
Object Diameter – 50
Eye Relief – 3.6-3.8
Reticle Type – Mil-Dot
Click Value – 1/4 MOA
Fov – 16.1-3.9
Length – 14.96
Tube Diameter – 30MM
Windage Elevation Travel – 100
Weight – 21.9
Finish – Satin Black
Minutes Per Revolution – 15
Target Knobs – Yes
Sunshade Included – Yes
Adjustment Objective – Side Focus (50 yards to infinity)
We bought two of the new SIII SS 6-24X50 LR 30MM scopes to review. What follows is our findings.
Optics
Optical Clarity is the most difficult aspect to be objective about when looking through a scope. There are no easy tests for measuring clarity and brightness. Also, everyone's eyes are a little different. In our opinion, the optics in this new model Sightron are on par with Leupold and Nightforce's top end optics. The Sightron SIII is superior to comparably priced optics from Bushnell and Nikon. The clarity and color are excellent. One thing that sets quality optics apart from cheaper imitations is the tendency for the cheaper optics to get dark and lose clarity as you increase magnification. The picture can be described as losing contrast and looking hazy. These Sightron scopes look bright and crisp on 24x. It should also be mentioned that there was very little distortion in the picture. Some higher end scopes we have recently looked through have what we call a fishbowl distortion effect. Sightron SIII scopes are free of that annoyance.
While preparing to use the Sightron SIII on an elk hunt I had the opportunity to shoot after sunset several times. One night I could still see my bullet holes at 100 yards (.30 cal) while a friend with an older, much cheaper scope could no longer see the target taped to the box through his optics.
Eye Relief
This Sightron scope has almost a full 4 inches of eye relief all the way through the power settings. Eye relief can be an issue on many high powered scopes. The problem we have run into is that a scope may have 4 inches or more of eye relief on the lowest power; but, when the power is turned up, it has only 3 inches or less. This is not a problem with this new Sightron. As you can see in the picture below it has plenty of eye relief, even on 24 power.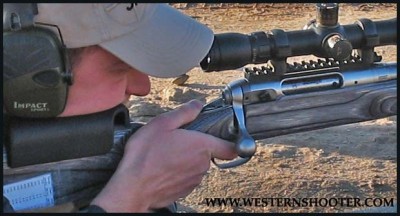 The Sightron SIII has almost 4 inches of eye relief all the way from 6x to 24x.

Target Turrets
We are pleased with the target turrets. They are large enough to be seen and turned, yet not so big that they are in the way when you are carrying the rifle. They also have dust caps which is something we feel is important on a rifle that will be carried often. The caps ensure that the turrets won't get bumped and move the point of impact of the rifle. They also protect your turrets from dust and dirt. If you don't like the caps you have the option of taking them off.
The turrets can be loosened and set to zero after the scope is sighted in. There is also a scale under the turret that helps you keep track of how many turns the turret is from zero. This allows you to turn the turret several times to get sighted in for long range shooting and be able to easily keep track of how many turns it takes to get it back to your original zero point.
The turrets turn in 1/4 MOA adjustments. You can turn 15 MOA per revolution. The scope has 100 MOA of internal adjustment for windage and elevation, a feature that is extremely important for long range shooting.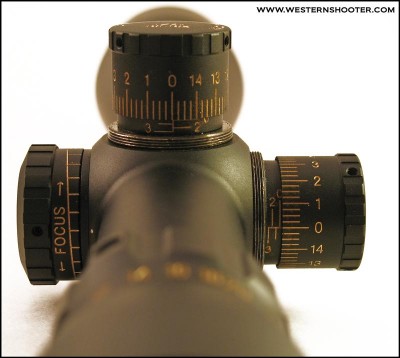 The target turrets are well designed. They are easy to see and provide crisp clicks that are easy to count.  The turrets can be set to zero once you have sighted in your rifle with the provided allen wrench.
Side Focus
The side focus is designed well. It is big enough for easy adjustment and yet not so big that it is in the way. Our personal preferences are for a side focus that is fairly stiff. If they aren't, just the motion from being transported in a case or scabbard moves it. This one is sufficiently stiff, yet feels smooth. It is easy to focus quickly, even if your hands are cold.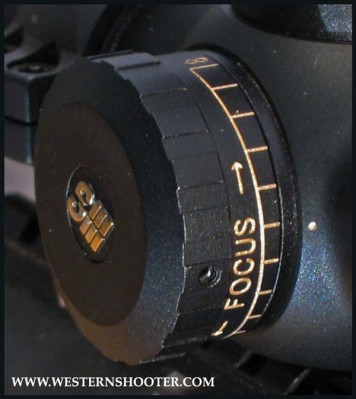 The Side Focus feels smooth and is easy to focus quickly, even if your hands are cold.
Reticle *
Both the scopes we tested have mildot reticles. The reticle is sharp and clear. The mildots are meant to be used on 24x on this particular model of scope.  Sightron provides measurements for other powers in the scope should you wish to come up with your own holdovers (see graph below).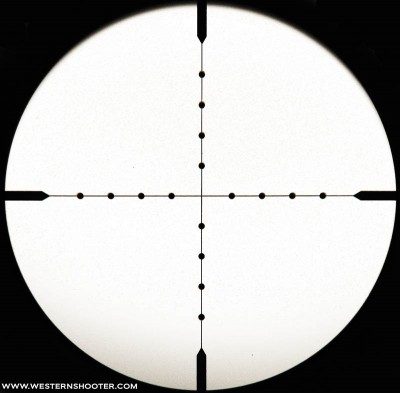 This is a photo of the reticle from one of the scopes we tested.
Sightron offers other measurements of the reticle for different powers. If you want to use standard mildot calculations you need to place this model of scope on 24x. (click the image for a larger version)
Tracking / Repeatability
We tested this scope intensely on its tracking ability. We wanted to know if it had accurate repeatable adjustments. To test the scope a target was set up at 50 yards with a plum line drawn through it, along with a level horizontal line. First, we zeroed the rifle, then the scope was turned 10 MOA up and a shot was fired. The scope was then turned up another 10 MOA and another shot was fired. This was repeated up to 30 MOA, back down to the original zero point, and then back up again. The scope was also tested for its windage adjustment.
The scope tracked and repeated itself almost perfect; any discrepancies were likely shooter error. The scope tracked up and down the line, returning to the same point of impact at each adjustment. We also found that 1 MOA of adjustment equals 1.10 inches at 100 yards.

The scope tracked and repeated itself almost perfectly. Any discrepancies were likely shooter error.
Durability
Both scopes have been well used in preparation for this review. Both have proved themselves at 1000 yards. One of them has been mounted on a .300 Win Mag and had no problem with the recoil. They have been in ATV scabbards, on horseback elk hunting, and beat around in cars and trucks. Both still look brand new (many of the pictures were taken after we had been using them for several months).
All Sightron SIII scopes are waterproof, fogproof, and nitrogen filled. While elk hunting the scope saw a variety of weather including temperatures well below freezing. It had no problems with fogging and maintained a clear sharp picture.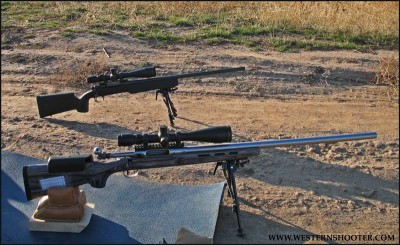 Two Sightron SIIISS6-24×50 LR scopes mounted on rifles.
Dimensions and Finish
All scopes with a 30MM tube and a 50MM objective are large. However, the Sightron SIII is about as compact as you can make a big scope and keep the features. Sightron didn't go overboard on the size of the turrets or overall length, and the scope doesn't feel like it weighs out of proportion to its body. It looks right at home on a large rifle.
The overall appearance of the SIII is one of quality. From the gold lettering to the matte finish it looks like a high quality riflescope that will last for years.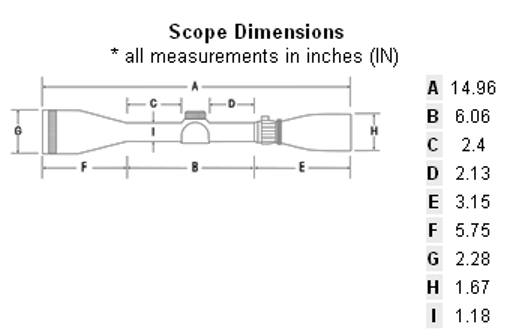 Warranty
No matter how good your scope is, no matter what brand it is, or how much you paid for it, there will always be the possibility that you may need repair work done or need to use your warranty. Sightron has one of the best warranties in the entire industry with their Lifetime Guarantee. If your product fails, you can send it back to Sightron or exchange it at your nearest dealer for a new one. It doesn't get much better than that. Your hunt isn't ruined and you can still shoot in your match without waiting weeks to get your scope repaired.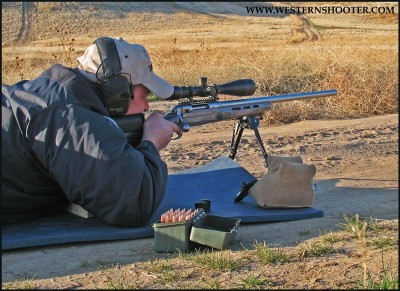 Conclusion
Overall, the Sightron SIII 6-24 is an outstanding scope for its price. The optics are very comparable to scopes costing hundreds of dollars more. The adjustments track very accurately and are repeatable. This scope is an excellent choice for anyone looking for a long range scope.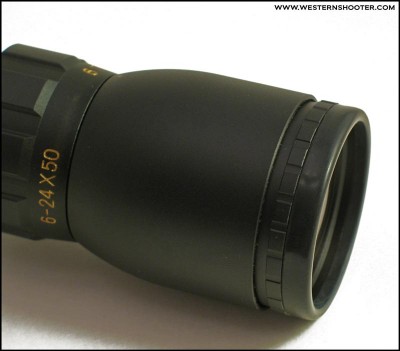 The Eyepiece Focus Ring is simple and straightforward. It is stiff enough not to require a locking ring to keep its adjustment.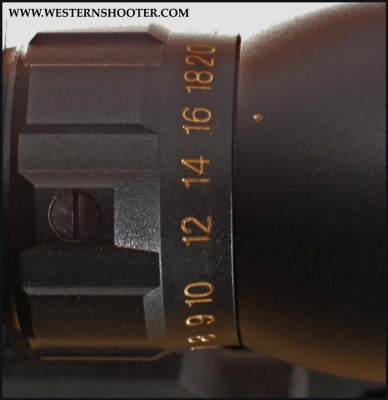 The Power Ring is clearly marked. It is an improved design over the discontinued SIII model in that the numbers face the shooter while behind the scope. The knurled ring makes it easy to grip even with gloves on.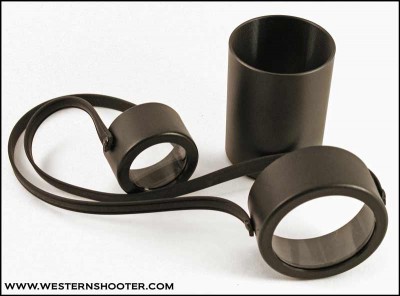 The scope is packaged with clear lens covers and a sunshade.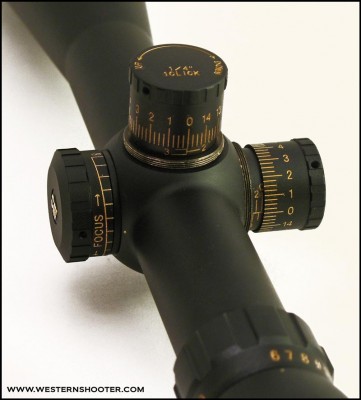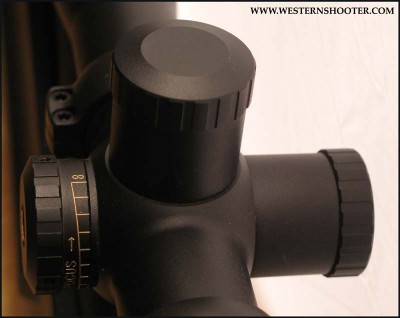 We really like the dust caps on these scopes.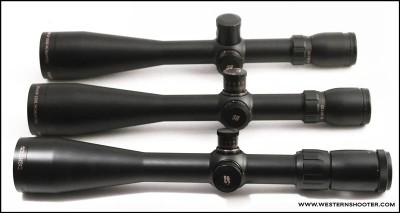 Two new model (2008) Sightron SS 6-24X50 LR scopes (back) and one discontinued Sightron SS 6-24X50 (front).
*There is a scope review from the 90's still posted on a prominent shooting website that states in paraphrase that Sightron reinvented their own Mil-Dot. The author goes to great length to enlighten users on ways he's come up with to be able to use this new Sightron Mil-Dot. In order to set the record straight, I called and talked to the product manager at Sightron. I was informed that the author of this review was somehow misinformed. Sightron has asked the website to remove the review several times as the information it contains is incorrect and misleading to users. Sightron uses a standard military style Mil-Dot. It is 3.6 MOA between center of dots at 100 yards. That has always been the Mil-Dot standard.