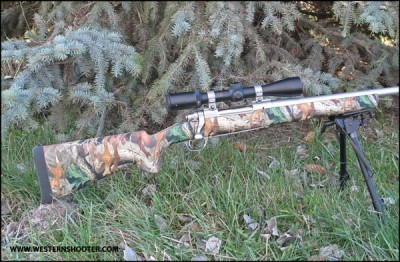 I bought my first Ruger M77 Mark II when I was 14 years old and have some very fond memories shooting it. I am still very fond of the Ruger M77 rifles. They are a serious hunting rifle. Nowdays, you have to spend a lot of money to find the features offered in an off the shelf M77. I am a big fan of Ruger's controlled round feed and I think they have one of if not the best factory extractor in the industry. My only complaint with Ruger M77's is that it's sometimes hard to find good quality aftermarket accessories like rifle stocks. My original Ruger M77 came with that ugly, hard kicking, skeleton stock with the tire tread recoil pad that left marks on your shoulder from just throwing the gun up. For years I have looked at synthetic stocks for Rugers, up to this point, I had not found a stock that I was pleased with even though I have tried several.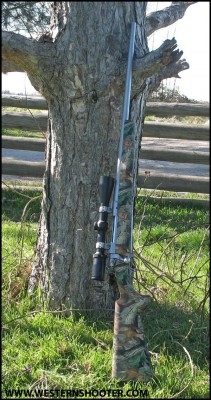 Ruger M77 Mark II All Weather in .300 WM wearing a Hogue OverMolded Full length Aluminum Bedding Block Stock. The camo patern is Advantage Woodland.
In 2008 Hogue came out with a camo rubberized rifle stock that fit all of my requirements. They offer it with a full length CNC machined aluminum bedding block or pillar bedding. Because I am mounting it on a magnum rifle and will use it with a bipod, I opted for the aluminum bedding block.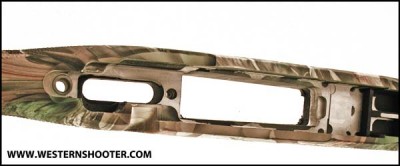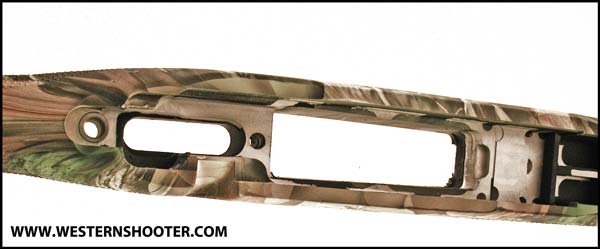 The CNC Machined Aluminum Bedding Block runs the full length of the forearm.
The stock is rubberized, very quiet and fits me like a glove. I couldn't be happier with it. The camo looks very nice and has the appearance of lasting a very long time. It has done at least 30 miles in a scabbard on a horse and still looks brand new.
The Hogue rubber finish is amazing. It has a soft and yet very grippy feel to it. Tree branches, rocks, and brush make very little noise if any when they touch the stock. This stock could be wet and frozen and would still feel nice. Hogue tells me that the rubber won't harden with time and that it isn't affected by cleaning components or oil.
The stock fit my rifle perfectly and free floated without any extra work. I have had other rifle stocks that required some cutting to make them fit right. The aluminum bedding block was machined very nicely and had no play between it and my receiver. I liked the bedding block better than one I have in an HS Precision stock that I own for another rifle.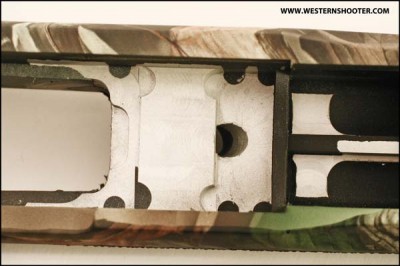 Recoil Lug area of the bedding block
While this stock weighs a few ounces more than the original stock that came with the gun, there is no comparison in the way the stock feels, throws up, balances and shoots. The factory stock was flimsy and would flex under recoil. There is no flex in this stock. It would take unusual shooting circumstances to push the forearm into the barrel on this stock as the aluminum block travels all the way up the forearm.
The camo pattern seen in all the pictures is Advantage Woodland and I think it is one of the nicest looking camo patterns I've seen on a rifle stock. It would blend well with a variety of terrain. Hogue also offers several other very popular camo patterns. If you're not into camo they offer the stock in black, green and tan.
All Hogue rifle stocks are built on a fiberglass chassis. The synthetic rubber on the outside is chemically and mechanically bonded to the fiberglass making it extremely tough and durable. Hogue has a long reputation of manufacturing and designing quality parts and being on the cutting edge of technology. Hogue manufactured parts for the Space Station. While that pearl of knowledge is off subject it illustrates that Hogue isn't just "some" stock maker.
All the rifle stocks Hogue offers come standard with aluminum pillars. This is normally an extra you pay a gunsmith to install. If you want to pay a little extra the full aluminum bedding block is available.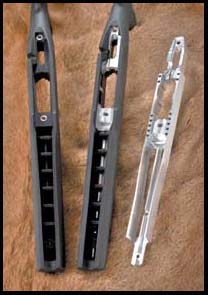 All Hogue OverMolded Rifle Stocks come standard with Alluminum Pillars (left). The full length aluminum bedding block (center and right) adds ridigity and strength to the action, recoil lug area, and forearm. Thanks to Hogue for the use of their picture.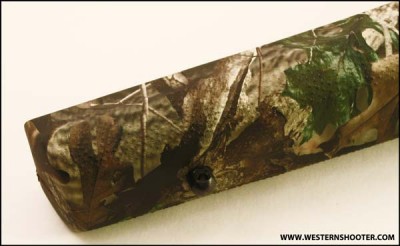 The stocks come with sling swivel studs so that you can attach a sling or bipod easily.
The recoil pad that comes with the stock is comfortable. It's my opinion that on the .300 Win Mag tested it worked as well or better than other recoil pads I've tried. If it isn't to your liking you can remove it and put your favorite brand on.
Hogue offers this rifle stock in models that fit Ruger, Mauser, Remington, Savage, Howa, Weatherby, and Winchester. Models that fit varmint contour barrels are available.