After I had my 2nd pair of Nikon Monarch Binoculars replaced due to breaking the eyepieces I knew I had to find a way to take better care of my binoculars. I am a big fan of carrying binoculars on a harness. It spreads the weight out, doesn't put stress on your neck, prevents the binoculars from flopping, and still keeps them in a place that makes using them easy. When it's cold I keep my binoculars zipped inside my coat and that protects them very well but in warmer weather they take a lot of abuse. The problem is that when I carry my binoculars on a harness they pick up all kinds of dirt, mud, dust, pine needles, sagebrush, etc in the eyepieces. Not only is this hard on the lenses but it is really tough on the pullout eyepieces. They don't tend to work well when full of grit. I have also found that the harnesses allow the binoculars to hit you in the sternum pretty hard if you get too active.
I was lucky and had binoculars that had a good warranty. However, it is really a pain having to get them replaced or repaired. Nothing is worse than having them not work while in the field.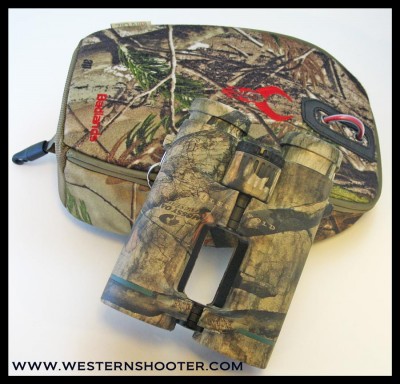 The solution is the coolest, most useful, technologically advanced, well engineered, binocular case ever to make its way to market; The Badlands Binocular Case. Once you try one you'll wonder how you ever functioned without one. It is comfortable, waterproof, dustproof, fast, silent, easy, adaptable, and a host of other good things.
This case is very well made. It will last you a lifetime. For a binocular case it might be overdone. The case and straps are sewn with Kevlar thread. The straps run through two seams. Every seam is sealed and taped. This is a high quality case.  It has an unconditional lifetime warranty.  Badlands did such a good job manufacturing it that I'm sure they won't ever have to do warranty work because of something that was their fault. Badlands warranty will fix it for free even if it's your fault.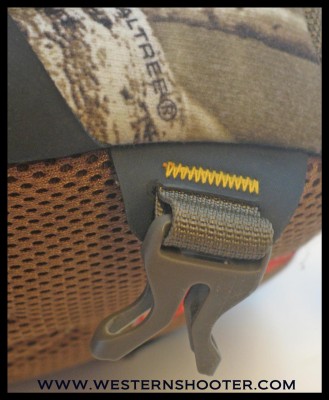 The first and greatest feature is that the lid opens and closes with magnets. I was skeptical at first but it is my favorite feature. The magnets make the lid silent to open and with a little practice silent to close. They hold the case closed extremely well. I've never had it come open by itself. It is a far superior design to Velcro, snaps, buckles, or zippers.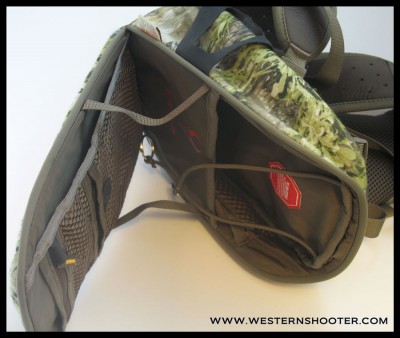 Magnets are sewn in around the edge of the lid and case. It makes for a very solid lid that opens and closes quietly and instantly.
The harness holds the case snugly wherever you position it. In cold weather I wear the harness over my coat. I don't have to unzip my coat to get to my binoculars and they are available for instant use.  The harness straps are also padded which obviously makes them more comfortable.
I  like to attach my range finder to the harness. You could also easily attach a radio or GPS.
The inside of the case has two elastic cords with a ring that hooks to your binoculars. If you don't have time to put them away inside the case you can just drop them and you won't lose them. I also think downward tension makes it easier to hold binoculars steady.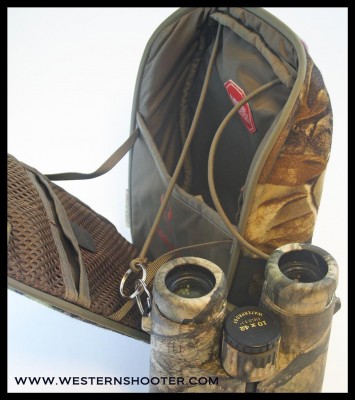 The harness attaches to the case in four places with quick detachable buckles. This makes it really easy to get in or out of the harness and you can come up with your own preferences for how you like to do this.
The harness is adjustable in four places with quick adjustable straps. You can wear it loose, snug, tight or anywhere in between. You also have the ability to adjust how low or high it hangs. When riding a horse I like it higher so it doesn't hit the saddle horn if I lean down. I also like it tight when I'm horseback riding, or scouting on an ATV.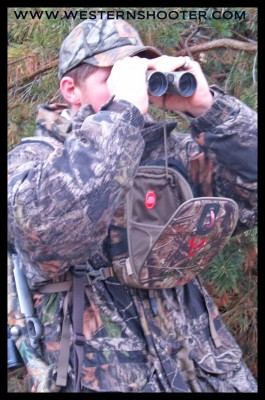 The case itself is made out of heavy duty synthetic material and is well padded. Not only is it padded but it has some sort of skeleton that helps it keep form and gives your optics added protection.  The case is what I store my binoculars in all the time. I have found that it gives great protection for binoculars when riding in your pickup.
There are some other brands of binocular cases that cover your binoculars while on a harness but the brands I've examined have not been much more than a piece of cloth covering the binoculars.
The inside of the case has several compartments that give you a place to store lens cloths, matches, hunting licenses, etc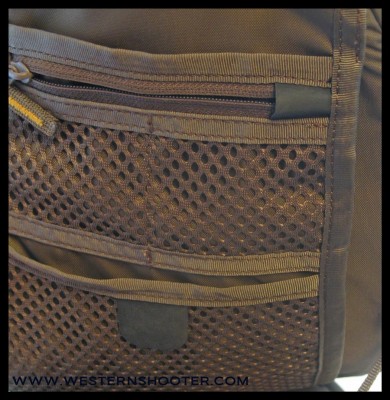 The case is very well thought out and has all kinds of small compartments for little things. I have carried my cell phone and keys in the compartments shown while snowmobiling. The case even includes a "built in" lens cloth (not shown) for optics.
The back of the case is designed to allow your body to breath so that the binoculars don't create a "hotspot".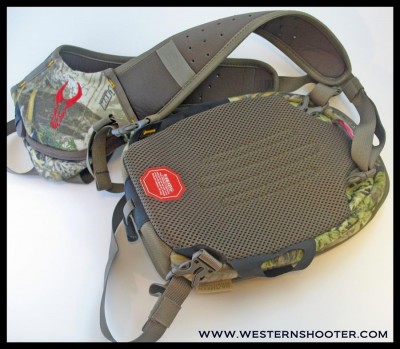 The Back of the case has a warning (red tag) that states not to use with a pace maker as there are magnets in the case.
The back of the harness has a small compartment that if unzipped creates a mesh bag designed for carrying a water bladder. I've never used this feature but there is nothing saying I won't in the future.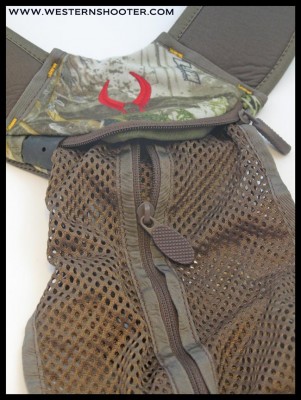 The Badlands Binocular Case Hydration Bag folds out of a small pouch on the back of the harness.
The Badlands Binocular Case works with Badlands back packs. It has slots in the back of the case for a chest strap to run through.
My only complaint about the Badlands Binocular Case is that it only comes in one size, medium. Size medium is in my opinion too big for 10×42 roof prism binoculars. If anyone from Badlands reads this please remember the trend for binoculars is smaller. Please make this in a size that fit's a 10×42 or even 10×50 roof prism snug.  In the meantime I will somehow survive.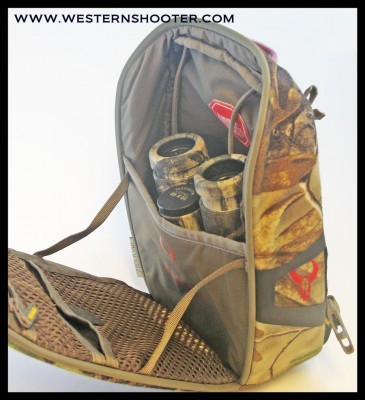 The Badlands Binocular Case has plenty of room for these Leupold Mojave 10X42 binoculars!
The price of this case seems a little high at first but it is much cheaper than replacing your optics. Once you have had one you would happily pay the $59 for another one should you need it.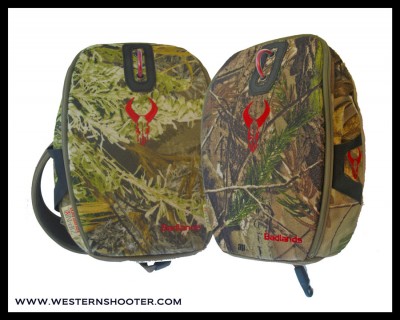 The Badlands Binocular Case comes in two camo prints. The one on the left is MAX1 and the one on the right is AP.
The Badlands Binocular Case weighs in at 15.8 Ounces.