Bell & Carlson has been a respected rifle stock builder for many years. When they introduced their line of Varmint/Tactical Medalist stocks I was excited not only because the stock appeared to have excellent ergonomics but also because the price point was so reasonable. Since its introduction, I've had the opportunity to test the Varmint/Tactical Medalist on multiple rifles and actions.
The first thing you should know is that the B&C Tactical Medalist is designed for using from a bipod, off bags, or with a front rest. It still works fine for offhand shooting but the ergonomics really shine prone. It features dual sling swivel studs on the forearm to facilitate easy bipod mounting. The forearm is 2.5 inches wide and flat on the bottom to help it track more consistently on bags or a front rest.
The handgrip is almost vertical and feels great. I've had lots of people shoot my rifles and had no one with large or small hands complain about how the  grip felt. I have medium to large hands and love it! The handgrip is what makes the stock work well prone.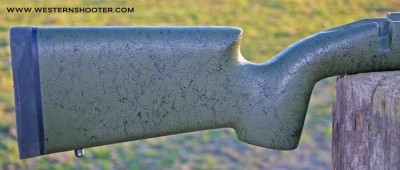 The comb is set up to work with a scope and if you keep your scope mounted low to medium in height nothing further is needed for an excellent cheek weld. If you are using a larger objective scope and can't mount it low, the stock is very easy to place an aftermarket or homemade cheek rest on. You'll notice a cheekpiece mounted on a B&C Tactical Medalist stock in several pictures. David, one of the writers on this site, made the cheekpiece himself for his 1000 yard F/TR rifle.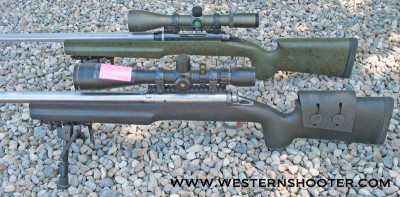 The stock has a full aluminum bedding block that runs from the action all the way up the forearm. The sling swivel studs are mounted into the aluminum bedding block. The aluminum running up the forearm is important for a target style stock because it keeps your forearm from pressing against your barrel when using a bipod or front rest.  The forearm is quite rigid.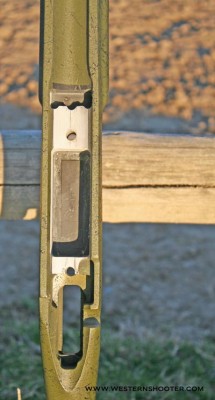 The aluminum bedding block doesn't require bedding but it can be done and you may achieve better results. Mine shot 1/2 MOA without bedding it.
I have used the B&C Tactical Medalist on both Savage and Remington Actions. The stocks have fit the actions almost perfectly with out me having to do anything to them. It seems like I may have had to shorten one of the action screws on a Remington 700 long action to make it work with the stock but this is a common issue with any aftermarket stock. Unless you are dealing with a custom action, all rifle manufactures have tolerances that are less than perfect and you may have to do something minor to make up for differences from one rifle to the next.
The barrel channel in the B&C Tactical Medalist is wide enough to accommodate the heaviest of barrels and have them free floating.  One of the Savages in the pictures  has a 1.120 barrel without any taper and it free floats all the way down.
The B&C Tactical Medalist stock is a great deal for your money. Similar stocks with similar features cost several hundred dollars more. If you don't believe me do some internet searches for HS Precision stocks or McMillan stocks.
We paid just a little over $200 for our B&C Tactical Medalist Stocks.
If you have experience with a B&C Tactical Medalist stock please be sure to leave a comment.