Burris Signature rings have a hard synthetic insert that fits inside the ring. They won't mark your scope and they don't create stress due to the way they are designed. Burris claims that they have more surface area contact than unlapped standard steel rings and so should grip your scope tighter.
The great part about Burris Signature rings is that the inserts, Pos Align Offset Inserts, come in different sizes that allow you to mechanically zero your rifle/scope for both windage and elevation. If you are shooting to longer ranges you can use the Signature rings to make your mechanical zero higher. This effectively gives you more scope adjustment and enables you to shoot longer distances.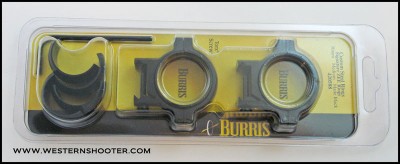 Burris Signature Rings are made out of steel and are high quality rings in every way. We have been using Signature Rings on magnum rifles for years without any issues or problems and we highly recommend them!
My personal favorites are the Burris Signature Zee Rings. They work on Weaver style bases.
Shown Above are the Burris instructions for mounting your rings (Click Image for Larger View)
Shown are Burris Signature Zee Rings in 30MM, Medium Height. They weigh 4.0 oz.
Click Images For Larger View