Earlier this year at the 2010 SHOT Show I shot the nicest AR I've ever fired. The recoil impulse was incredibly smooth, the trigger was light and crisp…. I could go on. I came back and posted a video of shooting the JP Enterprise CTR-02.  JP Enterprise had a backup iron sight system mounted on the CTR-02 that I shot, and I thought it was neat. I hadn't ever seen one locally and figured that there are other people who were also unaware.  They call it the JP Short Range Tactical Sight (JPSRTS).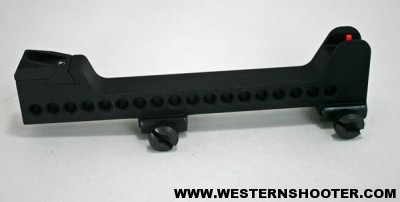 The JPSRTS allows a shooter to mount a variable powered scope on his AR and still have immediate backup iron sights. The JP Short Range Tactical Sight was designed for 3 gun shooters. They often have to switch from close targets to targets as far away as 450 yards as fast as they can. JP Enterprises designed the JPSRTS to work from point blank to 40 yards.
The sight is designed to be mounted at a 1 or 2 O'clock position on the front of a handguard. If you have a JP Enterprises handguard the mounting solution is designed in. I'm saving my pennies for one. If not, the sight will work on a standard free float AR handguard. There's good options for getting it mounted like drilling and tapping for a rail, gluing a rail on, or machining a slot similar to the one JP Enterprises uses on their handguards.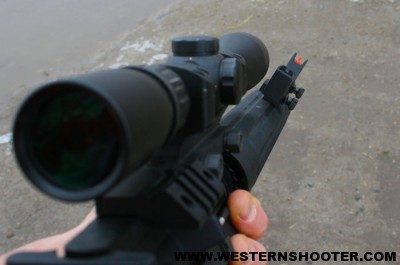 The sight is machined from one solid piece of aluminum and really doesn't add much weight (4 oz).The rear sight features a square notch similar to a match style pistol sight. The front post sight is designed after a regular milspec AR A2 front post sight. It even uses an A2 front sight tool for elevation adjustment. The front sight posts are polymer and come with 5 different colors. Orange is what came installed and its pretty easy to pick up fast. The front of the sight has A2 style wings that protect the front sight post.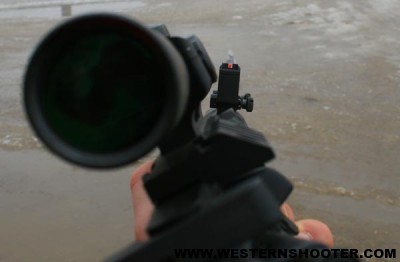 Once mounted you slightly cant the gun and you are looking at the sights. You don't even move your head. Even though the sight radius is short (6 inches) the sights line up perfectly, really fast and really easy. Much easier to line up than on a handgun.
One of the biggest benefits to 3 gun competitors that the JPSRTS has over a backup mini red dot or reflex is that it qualifies as iron sights, allowing you to shoot scoped tactical class. Under most 3 gun rules running a scope and a red dot puts you in open class.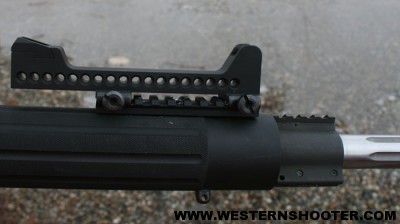 The JPSRTS offers a backup advantage for self defense purposes.  You don't have to un-mount a scope to be able to see your backup  iron sights should your scope fail or things move closer than you had anticipated.
Coyote and varmint hunters often carry 2 rifles or a rifle and a shotgun. One for shots 75 yards plus and one for when a coyote or varmint gets really close, too close to use their high powered optics. The JPSRTS would work great for this situation and would prevent both carrying an extra gun as well as save you time in switching firearms for that close shot.
There are probably numerous scenarios and numerous shooters that would benefit from the Short Range Tactical Sight, including the military.
One other nice feature of the JPSRTS is that it can easily be taken off and then remounted without losing zero. It attaches to Picatinny rail with thumb screws. I'm sure the sight could be mounted in as little as 20-30 seconds.
The JP Short Range Tactical Sight is well designed works extremely well for its intended purposes. At $109 on JP's website, it's not any more money than other high quality backup iron sights.