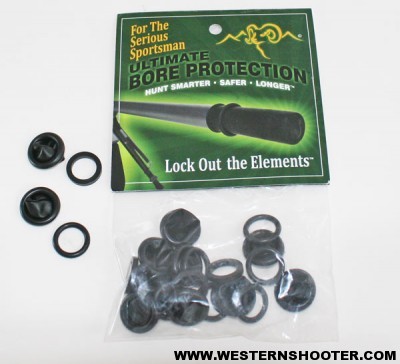 Nothing ruins a hunting or shooting trip faster than having a rifle barrel full of crud, mud, snow, or grass. I've used black electrical tape on the muzzle of my rifle and on more than one occasion had it save the day when I fell in slick conditions and rammed my barrel into the ground. While electrical tape works, it also leaves a sticky residue. For some reason on a stainless barrel that was bead blasted matte, it removed the stainless matte and made it shiny. Electrical tape has done the job but leaves a little to be desired. I guess covering the hole in the end of my barrel wasn't what it was designed for.
While I was at the SHOT Show 2010, I ran into an outfit (Bighorn Products)  from Buffalo, Wyoming that was exhibiting their products. They had a product that caught my eye. It's called "Ultimate Bore Protection" and it means no more electrical tape. Basically the package they sell contains 12 small black bore coverings that look kind of like small balloons or condoms. They fit over the end of any barrel and are tough. They will even go over open sights without tearing. The protectors are 2.5 inches long. The protectors are 6 mil thick and are 100% Biodegradable. Because they are biodegradable you don't have to worry about littering in the mountains when you shoot them off.  6 mil thick is substantially thick and feels quite a bit thicker than a balloon. They will fit any diameter of barrel including .22's, muzzleloaders, shotguns, and they work great on muzzle breaks. Also, included in the package are 12 "O" rings that keep the protector from coming off your barrel as you slide the gun in and out of scabbards or cases.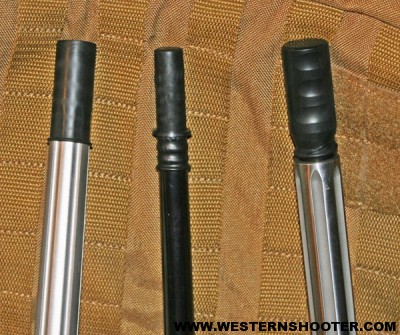 Bighorn Products recommends removing the Bore Protectors when you're done hunting so that condensation doesn't build up inside your barrel. You can reuse the product until you shoot a hole through it.
Using electrical tape or the Bore Protectors won't affect accuracy and is safe. The pressure in front of the bullet blows the tape or Protector out of the way long before the bullet gets to the end of the barrel.
This is a cheap accessory that can really save the day. Check out the website www.UltimateBoreProtection.com A package of Bore Protectors is only $5.50