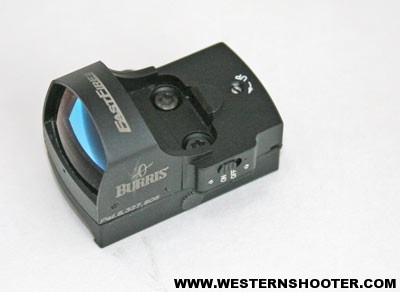 As a little kid I can remember using bugs that were squashed on the windshield of our family car as my reticle. I would carefully line up a very unlucky bug with a passing car or a road sign and say "bang".  Even as an adult with my own children I sometimes catch myself using a bug and the windshield to get in a little target practice. While a bug and windshield may not seem much like actual target practice, they are actually not far off from some very modern sighting systems.
The Burris Fastfire II simplifies the process of lining things up. It has a very bright red dot that you simply place on your intended target. Its kind of like a bug on a windshield. If your eyes have a hard time lining up a front sight, rear sight, and target, you really need to give the Fastfire II a try. No more lining up and trying to focus on 3 different things. The dot and target will both stay in focus. You'll also find that  the sight is extremely fast with a little practice. Another advantage to the Burris Fastfire II is that you don't have to have perfect form or even be directly behind the firearm. If you can see the dot from any angle and place it over the target you will achieve a hit.
The Fastfire II fits into a category of sights often referred to as "reflex sights". The simple explanation of workings is the sight projects the reticle/dot onto the piece of glass in the optic and the glass reflects the image of the reticle back to the user who then places it over the target. The sight is intended to be used with both eyes open and the red dot/ reticle superimposes itself over whatever you look at. The Fastfire II simplifies aiming.
QUICK SPECS
• Magnification: 1.07X
• Sight Window: 21mm x 15mm; .82″ x .59″
• Elevation adustment range: 3 degrees or 190 in.@100 yds.
(524cm @100m)
• Windage adjustment range: 3 degrees or 190 in.@ 100 yds.
(524cm @100m)
• Set value for one scale division: 1 MOA or 1 in.@100 yds.with 60
scale divisions per turn
• Subtension of the aiming dot:
4 MOA (10.5cm@100m)• Parallax-free sighting distance: approx. 50 yards
• Recoil resistance: At least 1000 G's
• Operating Temperature Range: -10°F to +130°F (-25°C to +55°C)
• Storage Temperature Range: -40°F to +160°F (-40°C to +70°C)
• Power Supply: 3V with one CR 2032 Lithium battery
• Dimensions: (LxWxH) 1.8″x1.0″x0.9″ (46mm x 25.4mm x 23.7mm)
• Weight (in operating condition without mounting materials):
0.9 oz. (25 grams
OPTICS
The glass or optics in the Fastfire II are simple. The lense is multi-coated and is easy to see through. It's hard to compare as it's different than looking through a conventional scope. However, it works fine and the glass is far superior to the "cheap" reflex sites that have become available.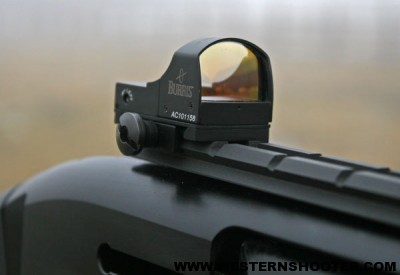 EYE RELIEF
The eye relief is virtually unlimited. You can mount the Fastfire II anywhere you can see through it.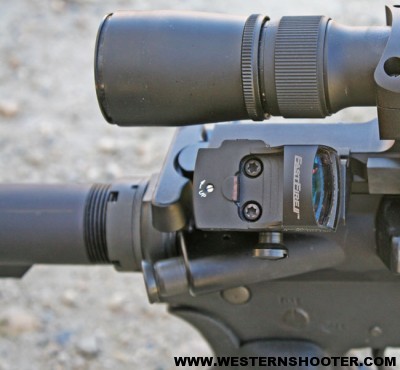 TURRETS
The Burris Fastfire II does not have turrets. It has 2 small adjustment screws that move the point of impact and the windage. Just like on a conventional scope the elevation adjustment is on the top and the windage adjustment is on the right side. This adjustment system is a double edged sword. It is not easily adjusted in the field and requires a fairly small flathead screwdriver (included in the packaging). It also requires that you loosen two locking screws before making adjustments. While the system works fine, it would have been nice if it could have been adjusted with a coin or slightly larger screwdriver system. The other side of this compromise is that when you lock the adjustments down the optic is not going to shift point of impact. The adjustment system is also what allows the entire optic to remain so small which is one of the things I like about it the best. The Fastfire II also has a lot of internal adjustment (190 MOA) which makes it possible to mount in unusual places and still get it to zero.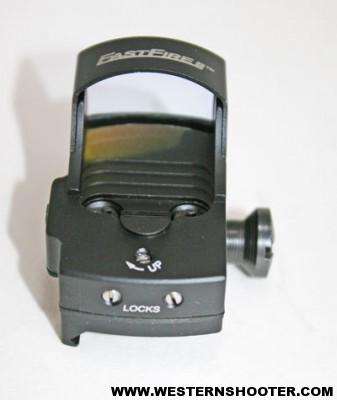 FOCUS
There is no side or objective focus. The Fastfire II is set to be paralax free to 50 yards but is shootable much farther than that.
RETICLE
The dot/reticle is an excellent size and it's easy to see. The reticle actually looks like the dot projected by a laser. The reticle is a 4MOA dot and at 100 yards covers approximately 4 inches. It covers and 1 inch at 25 yards. The unit has a light sensor that automatically adjusts the brightness of the dot based on light conditions in the direction of the target. Burris claims that you can leave the optic "on" with the protective cover in place and that the reticle will remain on for up to 4 years on one battery. The automatic sensor worked fine for me. The dot was bright in bright sunlight and dimmed in low light conditions.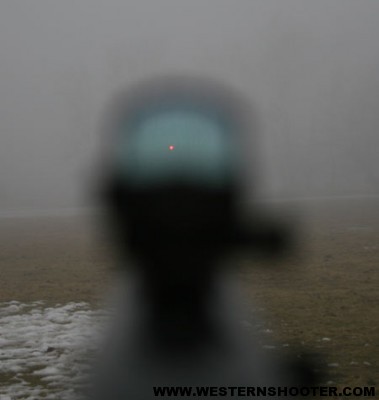 DURABILITY
The Burris Fastfire II is tough. Burris claims it can withstand in excess of 1000 G's. It's rated for magnum rifles, shotguns, and pistol slides. The units frame is made of stainless steel, bronze, and anodized aluminium.  Personally, I have had no problems with mine. It seems completely robust and tough. I've had it on an AR-15, a 12 gauge shotgun, and a pistol. The battery is coming up on a year and is still going strong.  Burris claims it will operate from -10°F to 130°F. I haven't tested operating temperature but have no reason to doubt the claims.
The unit, according to the instructions is water-resistant but not waterproof.  Meaning it could be rained on but shouldn't be submerged.The Burris website says its the only "fully waterproof unit in its product category". So I'm not really sure whether its fully waterproof or not. According to the directions, if you get salt water in the unit, you should rinse it out with distilled water and dry it.  That does, however, lead to the question of, if its "fully waterproof", how would you get salt water in it? I'll check with Burris and follow up on this.
DIMENSIONS
The Burris Fastfire II is one of the smallest reflex sights available if not the smallest. It weighs a mere 1.6 ounces ready to mount. It is small enough to mount in any configuration that you are imaginative enough to employ. Burris has also made mounting easy with numerous mounting brackets that will fit anything from your old 30-30 to the latest AR or handgun.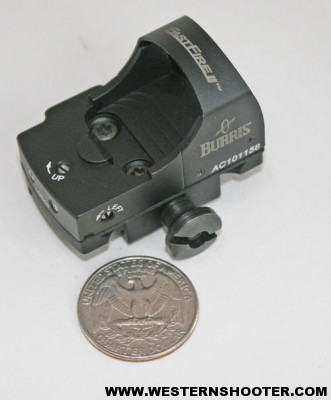 WARRANTY
The warranty on the Burris Fastfire II might be the weakest point of the package. Burris only offers a limited warranty and its only for 12 months to the original purchaser. I find the warranty a little disappointing as I think a company should stand behind their products. All that being said I haven't needed the warranty and haven't heard of others with problems.
CONCLUSION
The Burris Fastfire II is a solid unit. It works. Compared to the pricing on other quality reflex sights it's a bargain. It's small, lightweight, and simple. The Burris Speedbead, the Fastfire II's brother designed for shotguns, has won numerous industry awards and the biggest difference between the Speedbead and the Fastfire II is probably the way they mount. If you've enjoyed your Burris Fastfire II as much as I have, be sure and leave a comment telling us how you use it.