Nothing could be worse than having a child have an accident with a gun. As adults and responsible gun owners we have a duty to keep firearms out of the hands of children and teenagers who don't understand the danger. We also don't want our firearms in the hands of those that might do us harm with them. Even if our own children understand the dangers and wouldn't think of touching our firearms without permission/supervision nothing is to say the neighbor kid will show as much restraint. Teaching our children is also important as they will someday be at a friends house and be shown a firearm by a friend. They need to understand the danger.
So how do you have a gun available for self protection in an instant and at the same time keep it away from those who shouldn't have access? Obviously, a gun safe is an excellent way to keep guns out of the wrong hands. The problem is that it can take some time to get the combination input correctly and get it open. When I'm in a hurry it takes longer. The variety of safes that weigh 300-1000lbs are also hard to take with you on vacation and they're really hard to fit in the front seat of your car.  They're not a very good "right now" option.
In just the last few years many new options, some very affordable, have come on the market. For the purposes of this article we'll call them "Mini Safes". There is a large variety. The kind I'm talking about is usually just large enough to fit one or maybe two handguns in. I'm going to go out on a limb and say that they wouldn't keep a really determined person out for very long but I might be surprised. Some take batteries and use a keypad, some have a combination, and some use a plain old key.
All of them will keep out children. A few of them are small enough to carry in a laptop bag, briefcase, or in the door of your car. Some of them can be opened extremely fast.
Here's a couple of options that are small enough to take with you in a briefcase or easily travel in a car.
NanoVault 300 by Gunvault.  You can just fit a full size handgun in it. It has a 3 number combination lock that can be opened in seconds, no digging for a key, no batteries, and its small enough to take with you just about anywhere. The only downside is that if someone wanted to spend the time they could probably figure out the combination. There are 1000 possible combinations. This ones still my pick.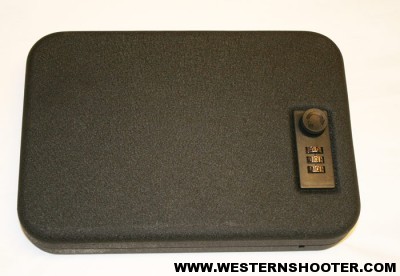 Specs:
9.50×6.50×1.75
21 Gauge Steel
1 inch thick Memory Foam Interior
Set your own combination
Includes a 1500 lb Test Security Cable that can be used to lock the NanoVault to your desk, bed, chair, car, motorcycle, ATV, etc.  You wrap the cable around a fixed object and then lock the end of it back into the safe.
Can be bought for around $25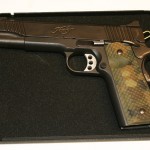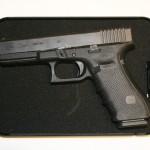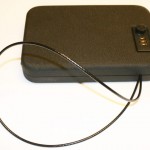 Gunvault also makes the Nano 100 which is a little smaller and uses a key. Otherwise its basically the same. It will fit revolvers with up to 2.5inch barrels and handguns with up to 4.5 inch barrels. It is going to be harder for someone else to open as its impossible to open without the key. However, its also going to require you to have the key to get your gun out if you need it.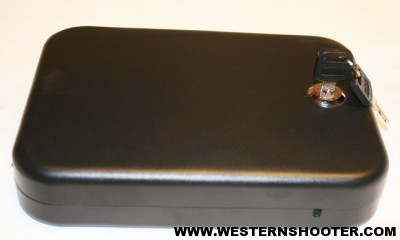 Specs:
8.2x6x1.75
21 Gauge Steel
1.25 inches of memory foam
Quarter Turn Lock
1500 lb Test Security Cable