Dry firing is a great way to practice sight picture, trigger control, safety, and muscle memory. Other benefits of dry firing include no trips to the range and hundreds of dollars of savings in ammunition.
Laserlyte has recognized the benefits of dry firing and taken it a step further with their innovative Laserlyte Pistol Trainer Pro LT-Pro. The Laserlyte Pistol Trainer allows you to gain all the benefits of dry firing but includes the added benefit of seeing where a real shot would have landed; instant, realtime feedback.
The Laserlyte Pistol Laser Trainer Pro LT-Pro fits in handguns from 9mm-45. It fits flush with the bore so that it will work with real world holsters and cases. The LT-Pro requires at least a 2 inch barrel. You can practice getting that gun out just as if you were doing it for real, but in the comfort of your own home.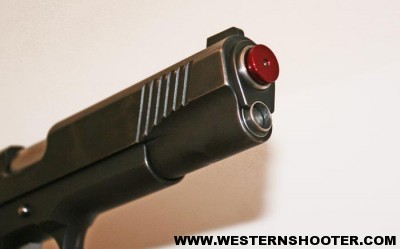 The Laserlyte Pistol trainer Pro differs from other lasers and bore sighters in that when it senses a sharp impact, such as a hammer or stryker falling it emits a short burst of laser and then turns off again. Laserlyte claims the laser is activated for 100 milli-seconds. I was able to get the laser to "fire" by flicking it hard with a finger nail. The unit is fairly sensitive and worked reliably.
Unfortunately, the laser doesn't "rack" the slide on single action semi-auto style pistols after you pull the trigger so you have to do this each time after you dry fire, a minor inconvenience. Double action semi-auto's or revolvers would allow you to shoot multiple strings of laser fire without interuption or reloads.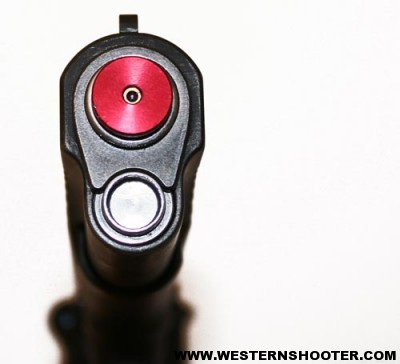 The laser is perfectly accurate and will shoot to the same point of impact each shot assuming that it was installed correctly and that it hasn't been knocked loose. This does not mean that it will shoot to your sights. It will more than likely be close and I had some guns that were almost perfect but several that the sights were off some inches at 15 yards. You have the option of moving your sight (not recommended) or holding off to get a hit. When you shoot your goal should be to see only a red dot. If you see a line it means your muzzle was moving as the laser fired. The better you hold your pistol the smaller the dot.
The Laserlyte Pistol Laser Trainer will last for thousands of rounds of dry fire on a set of batteries as long as when you are finished you remove the batteries. I didn't understand this my first time using it and the next day the batteries were dead. I asked Laserlyte about this and they explained that to install the circuitry necessary to leave the batteries in all the time and yet still have it respond would have cost much much more than most of us are willing to spend. So remove the batteries when you are done training with it and they will last a long time.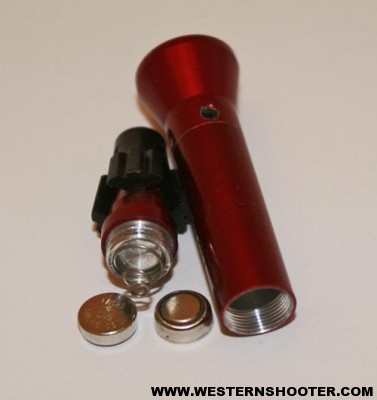 Bottom line is that the Laserlyte Pistol Trainer Pro works. It makes training and practicing fun and more effective. Don't let the price of the unit deter you, it will make you a better shot and is cheaper than shooting ammunition. Just remember to be safe and don't practice bad habits.
Laserlyte LT-Pro MSRP's for $99 but can be found online for less.