My wife looked at me like I had just grown two heads as I was doing the happy dance around our living room. The Idaho Fish and Game had finally posted the draw results and I had drawn the rifle tag I wanted for an archery only unit for elk. Once I finally calmed down it was down to business planning the hunt.
As luck would have it my brother In-law Chris also drew out so we would be hunting together. We decided to use ATV's to haul camp as far as possible then horses for hauling out game. The months passed slowly but finally we were headed out. Unfortunately, Mother Nature didn't want to help us and it was raining hard making for a muddy wet trail. The four wheeler got stuck numerous times and we were soaked to the bone from the rain. We finally made camp around midnight the night before the hunt, several miles short of where we wanted to be.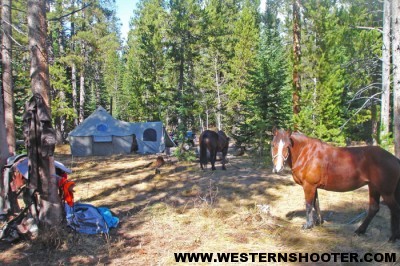 The first day dawned and we saddled up early and headed out. As the sun slowly came up we spotted our first elk. We were still on our horses and not quite where we wanted to be yet. We were caught off guard as the horses had wanted to travel slower than we had expected. Quickly, we tied up the horses and started glassing but the elk weren't stupid and moved off. Unfortunately, over the next couple days every place I had scouted we ran into other hunters camped where the elk had been. We also had one group of hunters that evidently didn't know how to get off their horses. The hunters rode through every basin and up and down every ridge hoping to find any elk dumb enough to just stand there for them. Finally, the hunters got discouraged and went home. We had the area back to ourselves.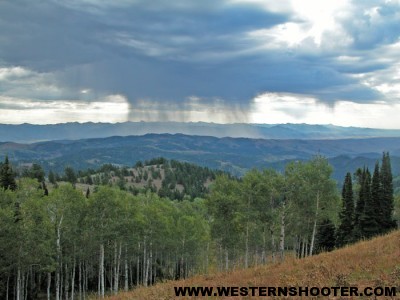 I tied the horses up and hiked up the ridge to a spot that I liked to sit and glass from. We had been here a few days earlier and seen some deer, but no elk. As the evening slowly started to slip away I heard what I thought was a bugle close by. I whispered to Chris, "Did you hear that?" he just shrugged. We continued to strain our ears listening….there it was again. This time I knew it was an elk and he wasn't very far away. We slowly slipped back behind the ridge so as not to be spotted and snuck farther north to get above where I thought he was at. As we slowly inched up, I noticed the wind was starting to change and blow down the ridge. We quickly backed down and circled to the side so as not to be directly over the herd. By this time he was really bugling and we could hear the cows chirping and moving through a big quakie patch. It sounded like they were just feeding and there was no way we could move in on them. We decided to split up and each get on one side and see if they would feed out. Chris decided he would go around to the north and I would stay put. Not five minutes after Chris left I heard elk suddenly start to move out in a hurry. They must have smelled Chris as he tried to sneak above them. I had to think fast about where I thought they would go. I remembered glassing an opening straight down from me so I took off at a dead run. Just as I got to the opening, I sat down and got ready. After a couple of minutes I started to think they had outsmarted me when 80 yards away I see a cow sneak out of the timber. She stood there testing the wind then slowly started down the opening to another patch of timber. Several other cows had started filing out of the trees when suddenly the bull rips out a long bugle. The hair on my neck always stands up when I'm that close to a bull when he calls out his challenge (the day it doesn't, I'll stop hunting) Now I'm starting to get pumped, thinking wow, for once I guessed right. The bull then comes out right behind a cow with his head down following her. I quickly looked and saw six dark ivory tipped points on each side and I knew he was the bull I drew this tag for! The cow is now blocking my shot ….move dang it! She finally steps to the side right when he bugles again. Just as he finishes his bugle I compose myself enough to settle the cross hairs and squeeze off a shot. The bull dropped instantly, and luckily his horns kept him from rolling down the hill. The whole hillside is then covered by elk as they run down into the timber. Unfortunately, Chris wasn't with me and able to capitalize on the other two smaller bulls in the herd. Just as light is fading away I'm able to walk over and admire the beautiful bull. Then the work began!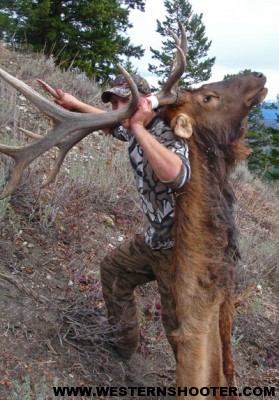 After spending until late that night and most of the next day getting him back to camp we load up camp and head out (In the rain and mud). My bull gross scored 322 B&C not to bad for a public land D.I.Y hunt. Chris had some close calls but unfortunately wasn't able to score on his bull. I guess that's why they call it hunting and not getting.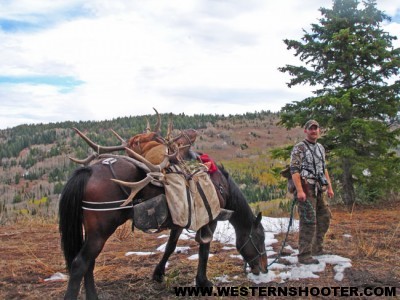 Jesse's Equipment List
Fieldline Dwight Schuh Mega Pack
Bausch and Lomb 10×42 binoculars
Ruger M77 Mark II 7mm rem mag
Nosler Accubond 160 grain bullet
Green River Skinning Knife