The Sinclair F Class bipod has been around for a couple of years. Last year Sinclair made a few changes and updated a few things on the Bipod. This review will cover the latest model.
The Sinclair F-TR Bipod is made of aluminum. The bipod legs are adjustable independently for height and the bipod has a seperate cant control that can be used from behind the gun for getting the gun perfectly level. The cant adjustment looks like a giant "pod lock" and works in much the same manner.
The feet on the bipod are fixed and do not move. The obvious advantage to this bipod is that you can't load it. This forces you to be more consistant (in my opinion) in how you hold the gun. The bipod/gun track extremely well even with stiff recoil.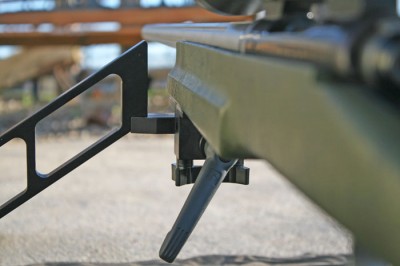 My only dislike or negative about the bipod is that I find it difficult to put on. It's not that its hard, just can be frustrating if you are in a hurry. The attachment is sturdy and locks down tight to a sling swivel stud. The attachment works by sliding a hardened steel pin through the sling swivel on the forearm and then two tension knobs tighten it down and suck the bipod up against the sling swivel stud. The bipod will mount on any rifle with sling swivel studs including AR's. I prefer using the bipod to shooting off the bench with sand
bags.
The Sinclair Bipod is constructed to last a lifetime and I'm sure it will. If not, Sinclair is a reputable company that stands behind their products so no worries there. The Sinclair F Class bipod has become the bipod to own if you shoot long range competitively or in F-TR Matches.
Legs adjust from: 5.5 inches to 10.25.
The Bipod weighs: 2lbs 4 oz
The Bipod is available from Sinclair.com for around $200 and is available in both black and silver(aluminum).