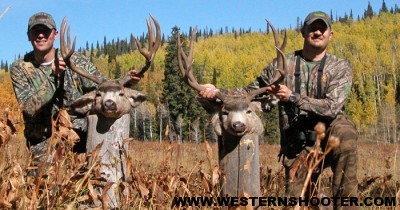 I checked the wind for the third time and finally felt comfortable that it wasn't going to change. I was sure that the buck was here somewhere. I continued to slowly sneak along the trail praying that I wouldn't step on a stray twig or dead leaf blowing my opportunity. Suddenly, I caught movement ahead of me and I froze. In a ravine about 60yrds ahead, the head and antlers of a buck slowly came into view. Instantly I knew this was the buck….
My deer hunt this year really started in September. The first morning of my archery elk hunt found me glassing and listening for that magical sound…a bull elk bugle. As I slowly watched the sun rise I spotted him. Not an elk but a big mule deer buck, then two, then three and four nice bucks.  I love to hunt bugling elk in September, but I really love to hunt big mule deer. I watched these bucks for about 30 minutes (until an elk bugled and I went after him). All four bucks were nice four points but one of them had it all and I figured he would gross score above 190. Over the next few days I saw this buck several times, although I couldn't ever get close enough with my bow. I knew where I would be during rifle season.
Opening day of general deer season had finally come. We had packed camp in about six miles from the main road and were ready to go. The first morning found my good friend Dave Kynoch and I hiking up the mountain in the dark. We wanted to be at a good glassing point as it got light. As we approached the top we heard an elk bugle. We stopped not wanting to disturb anything. The bull and his cows were right in our way. We couldn't see them but could sure hear them only a couple hundred yards away. Soon one bull was joined by four. Nothing gets the heart pounding more to hear a bunch of bulls in the early morning light going at it. Dave had drawn a rifle elk tag for this area, but unfortunately it didn't open for another five days. Slowly the elk moved down the ridge and we were able to sneak in behind them and get to the edge of the ridge so we could glass the basin below. The first thing we saw as we started glassing was the herd of elk, about 20 cows, and a 320-330 bull with two smaller bulls all within 200yrds. Now Dave was really getting excited, when I was finally able to remember what we were here for and drag my eyes away from the elk there was a deer right below us! Suddenly our focus shifted and the game was on. There were eight bucks below us, one was a nice four point the others were just little bucks. Dave only had really one day to hunt deer since he was here to scout for his elk hunt, he decided to take the biggest buck. We had to get set up fast as the bucks were headed toward the timber. After some difficulty getting an accurate range reading on the bucks we finally got it figured out. As the buck stopped to look behind him..BOOM! Dave was able to drop him at 425 yards. First morning first buck!
It took us all morning to get Dave's buck back to camp, a short nap and we were back out for the evening hunt. This time we were going after the buck I had seen during the archery hunt. As we worked our way up to get to our glassing spot once again we ran into elk in our way. While this was exciting for Dave to be in the middle of elk again it slowed us down. Not wanting to scare them and blow out any deer in the area we had to patiently wait. Finally they moved on and we rushed to our spot as it started to get dark. Just as we got to where we wanted to be I spotted a deer at the top of the clearing headed into some timber. One quick look and I knew it was him as I quickly set up for a shot he moved into the trees at about 400yrds. There was one small opening so I sat down and watched it. Two does went through the opening…but as it got dark the big buck never did. Aahhhh, so close.
Dave was packing up to head home so the next morning found my brother in law Caleb (came in late the first night) and I glassing in the cold morning air hoping to spot a nice buck. We were in another basin that I had spotted some good bucks in the past. Finally there he was, all alone feeding in a small opening on the hill. Having hunted this spot for several years and spotting bucks in this same area I knew (past failures) that we could not get any closer. So we set up with a solid prone rest, ranged him several times, dialed in the scope, took a deep breath slowly let a little out… hold it…..BOOM! The shot felt good I quickly asked "did I hit him"? Caleb who is my spotter pauses…"I don't know". I quickly get back on him just as he walked into a finger of pine trees that runs up the ridge. I glass and glass looking for him to come out…nothing. I determine that the smart old buck instead of running across the hillside had ducked into the trees and is probably sneaking up to the top. So I quickly pack up and make my move to intercept him…
….As I saw his head and horns coming into view,I knew that it was him. Slowly, I bring my rifle up and get him in the cross hairs. I slowly click off the safety, he hears the click and quickly swings his head around and looks right at me….too late BOOM! Two mornings two bucks!
After two days of packing out bucks on my back I was starting to feel it. We still had one more tag to fill so we hunted close to camp that night to get a little rest back in our muscles. We saw several small bucks that night but nothing Caleb wanted. The next morning we decided to go back after the buck I had originally wanted and didn't get a shot from the first night. I was determined after seeing him all archery season one of us needed to kill that buck. This time we were able to sneak into perfect position well before light and start glassing. As the morning passed we saw lots of deer but not the big buck. I kept glassing the same patch of quakies he had been living in but nothing. After glassing that same patch 20 times suddenly there was a deer peeking out. One look and I knew it was him and he was crossing a small opening. I quickly tell Caleb to get ready. Caleb then asks me "how big is he"? I tell him to just get ready and trust me he's big! We don't have much time. Just as I range him (350yrds) he stops to test the air…BOOM! Three mornings three bucks!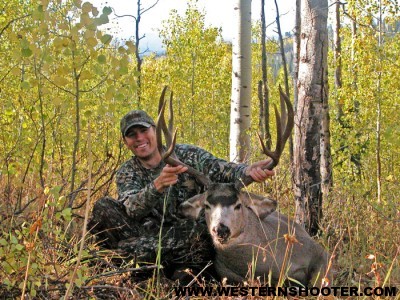 Even though It wasn't me that pulled the trigger on that buck we still got him and I couldn't be happier. My buck had 5 ½ inch bases and good mass all the way up. He was 27 inches wide and was so old he barely had any teeth. Caleb's buck is 26 inches wide and has really good forks and long points. We haven't had him officially scored (still at the taxidermist) but he's a trophy in our book regardless. Now all there is to do is dream about next year and try not to go crazy!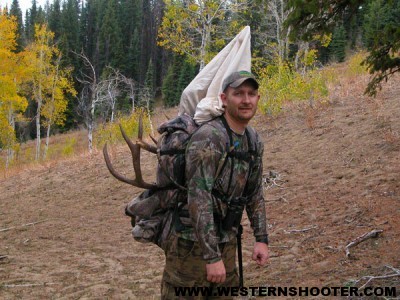 Jesse's Equipment List
Fieldline Dwight Schuh Mega Pack
Bausch and Lomb 10×42 binoculars
Ruger M77 Mark II 7mm rem mag
168 Berger VLD Hunting bullets
Green River Skinning Knife
David's Equipment List
Leupold Wind River Cascade 10×42 binoculars
Pre-64 Winchester Model 70 30-06
Nosler 180 grain Ballistic Tip bullets