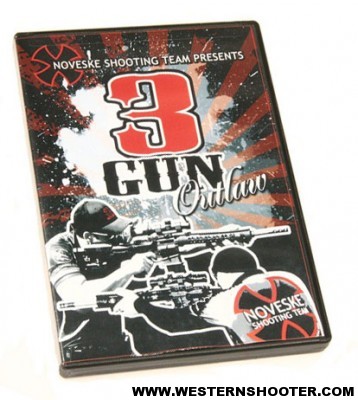 3 Gun Outlaw was recently released (Jan 2011)  by the Noveske Shooting team. It is instructional video that covers concepts in 3 gun that might be overlooked even by experienced shooters. I thought it was an excellent video that covered many aspects of 3 gun shooting. Don't mistake it for a video that teaches you how to shoot your gun. As a beginner you could learn valuable information but the video is targeted to someone who is already a fairly competent shooter.
I wish this video had been available before I shot all the 3 gun matches I've shot. Excellent information that goes beyond what equipment is needed although a small amount of equipment is covered.
Concepts are taught in an easy to understand clear concise manner with great camera shots to back up  and strengthen teaching points. Rob Romero and Jansen Jones do an excellent job of teaching and keeping the video real, to the point,  and entertaining to watch. This video sets a new bar for firearm and shooting instructional videos.
The Noveske Shooting team covers aspects of 3 gun that include but are not limited to, techniques for shooting, reloading, safety, avoiding DQ,  strategies for shooting stages,  specific targets, and much more.
Some instructional videos repeat the same thing over and over or drone on too long about concepts until you want to get your remote and fast forward them. This video moves along and you may find yourself wanting your remote to rewind and watch again.  It's not repetitive and if you're serious about knocking some time off your next 3 gun match is a must watch.
If you could ask questions this video would be almost as good as a one-on-one instructional with the Noveske Shooting Team.
3 Gun Outlaw can be bought from the Noveske Website for $24.99.
The video is about 65 min long.
From the Back Cover of DVD:
RIFLE: Transitions, moving with and
abandoning a loaded safe weapon, getting
into and out of awkward shooting positions.
PISTOL: Transitions to and from pistol,
abandoning a safe pistol and avoiding DQ
situations.
SHOTGUN: Loading techniques, load
management, shot and choke selection, sight
picture, stance, dumping a hot weapon
versus burning the last round, shooting on the
move and much more.