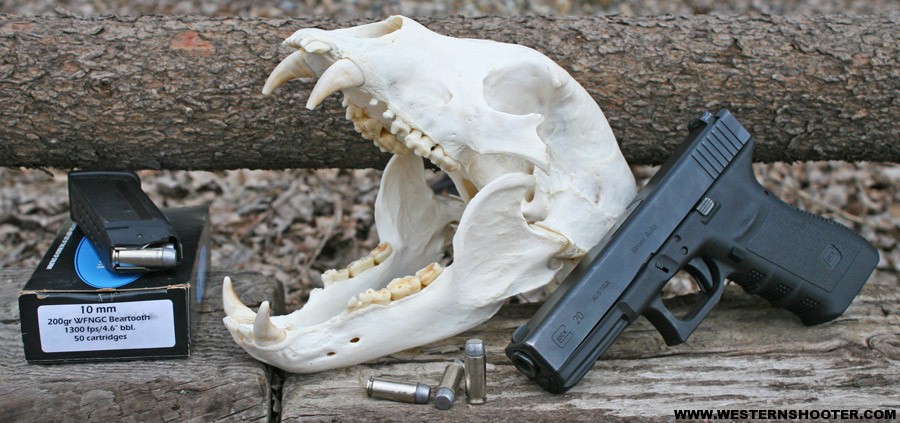 I had chased bears all over the mountains off and on for several weeks with my good friend Don, who's a very experienced bear chaser. I'd had opportunities to shoot many bears but none got me excited enough to start shooting. I'd had a chance, for about 1.5 seconds, to shoot a running bear with a rifle at about 150 yards  and passed it up because I wasn't confidant in its size. Afterwards, I regretted not taking the shot. I resolved not to make the same mistake again.
The day started at 3:30 AM. Ben, one of Don's friends, had joined us and by 10 or 11 AM we'd seen a couple of bears but none that I wanted to shoot. We were several miles from the truck. I'd left the rifle in the truck because we had only seen small bears and I was tired of carrying it. The day was progressing like all the other days over the past few weeks.
As far as gear, I was only carrying water, a Glock 20 (10MM), a knife, and a few emergency essentials like matches. I didn't even have an extra magazine. The Glock was loaded with 15 cartridges of Double Tap Ammunition. The loads were 200g solid lead WFNGC Beartooth bullets that had been chronographed at 1300 fps.
I never did get a very good look at the bear but the idea of shooting him with a handgun appealed to me. He appeared to be a mature bear and was an unusual color. I had a small view of a shoulder through brush and tree branches at 40-45 yards. We couldn't get any closer. Don asked me if I could make the shot and I responded that I thought I could. After shooting the bear and having him disappear quicker than a lightning bolt, I began to question my shooting. The shot felt good but we couldn't find any blood. The area had thick brush and deadfall so visibility was very limited.
Don ended up getting a dog and we began to track the bear. Eventually, a small amount of blood was found and I wasn't sure whether to feel good or bad. I wondered if  I'd created a mess with a wounded bear. We came to a ravine and looking across, I got a brief glimpse of the bear heading through the brush on the other side. He was over a hundred yards away.  I decided since he was already wounded I couldn't do any harm shooting at him. The 10mm shoots flat and I was able to make a hit before he disappeared again. We hurried to the other side where he had been and continued tracking him. We followed him until he circled back into the creek drainage.
The brush near the creek was moving so we thought the bear was crossing. Ben and I sprinted to get down to the creek so I would have a shot as he came up the other side. Don stayed behind with the dog. Ben, who was as excited as I was, was about one step ahead of me as we ran. The bear hadn't actually crossed the creek but had come back to ambush us. He was waiting in a depression near the bank. When we saw him we were running straight towards him and he was only about 12 feet away, facing us. We tried to stop and back up but he charged. I had to step to the side of Ben to shoot. I shot the bear directly in the chest at 7 feet. The bullet impact knocked the bear back, killing him.
As it turned out, I hadn't made a poor first shot. The bullet had broken the bears shoulder and exited through the other side. It was a perfect shot. His hair was so long that it soaked up blood and left very little blood trail. If we'd waited longer we'd have probably found a dead bear. However, that wouldn't have been nearly as exciting.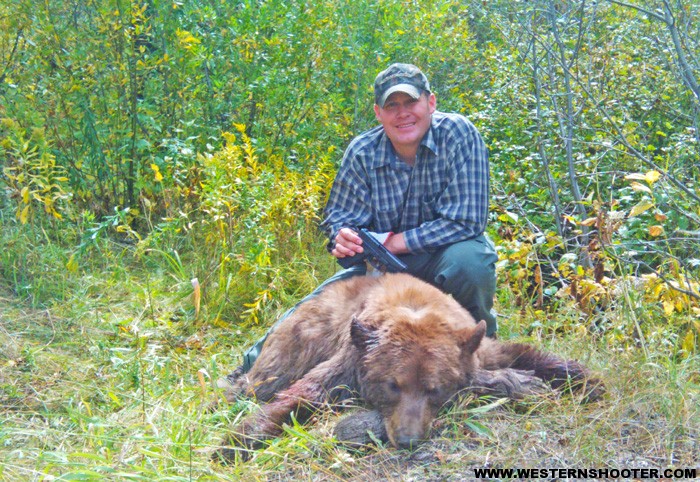 The Glock 20 performed like a champ. I had carried it all over the mountains for months and never cleaned, oiled or unloaded it. After shooting the bear I checked it out and it was full of grit, pine needles, and mountain debris but still functioned perfectly.
Solid heavy bullets perform best for hunting with pistols. The heavy bullets have more sectional density and penetrate better. The loads I was shooting are the factory equivalent of a .41 Magnum, more power than a .357 magnum, not quite as much as a .44 mag but very manageable to shoot.  The Glock 20 is one of my favorite handguns to carry as it weighs only 27 ounces and is very accurate, shootable, dependable, and carries a lot of knockdown power. The Glock 20 also handles or dampens the recoil much better than an all steel gun and allows for very fast follow-up shots.
Visit Glock
Visit Double Tap Ammunition