After acquiring a Sightron SI 3-9×40 I'm convinced that if  your budget for optics ends at around $140 that you need to spend it on a Sightron. Unlike almost all other optics in this price range the Sightron SI is made in Japan and NOT in China.



Quick Specs:
| | |
| --- | --- |
| Name | SI39x40HHR |
| Magnification | 3-9x |
| Object Diameter | 40 |
| Eye Relief | 3.6-4.5 |
| Reticle Type | HHR |
| Click Value | 1/4 MOA |
| Fov | 36.6-12.6 |
| Length | 12.75 |
| Tube Diameter | 1.0 |
| Windage Elevation Travel | 70 |
| Weight | 13.4 |
| Finish | Matte Black |
| Minutes Per Revolution | 15 |
| Target Knobs | No |
| Sunshade Included | N/A |
Optics
To be honest I have come to not expect much from scopes costing less than $400. The Sightron  SI blew me away. The optics are superior to a scope I paid $450 for and whose manufacture name starts with B and with which I've been relatively happy with. The optics are even noticeably superior in broad daylight. I don't think you can do better in the optics department for the money.

Eye Relief
Sightron doesn't recommend putting this scope on heavy magnums as it's their bottom of the line offering. However, it has more than enough eye relief to handle just about any cartridge made. On 3x the eye relief is an unbelievable 4.5 inches and on 9x its 3.6 which is also excellent. If you are putting this on a son, daughter, or wife's hunting rifle you'll never have to worry about "scope eye" as long as some common sense is used.
Turrets
The turrets work. I had no problem sighting the scope into zero at 100 yards. The clicks are positive enough to count easily and are in ¼ MOA adjustments. They aren't comparable to the SII or SIII turrets.These are not target turrets and are not meant to be dialed for shots. The scope also doesn't have Sightrons patented Exact-Trac system in it. However, it tracks just fine and works as well as any other scope you've ever used. The scope has held zero for me perfectly.The turrets do not reset to zero but for the money its really not an issue. This is the kind of scope you sight in one time and use it for 50 years and then give it and the rifle to your grandson. I should also point out that this scope has 70 MOA of internal adjustment. Most other scopes have 35-40.


Reticle
The HHR (Hunter Holdover Reticle) is Sightrons design and it works well. The best thing about it is that it is simple. Its designed to be effective out to 400 yards with a 200 yard zero. It works on almost all calibers and can be fine tuned by sighting in just a little high or low at 200 yards.
Sightron also offers this scope with a mil-dot and duplex reticle. The first bar is 2.5 MOA from zero at 100 yards and the second bar is 5 MOA from zero at 100 yards.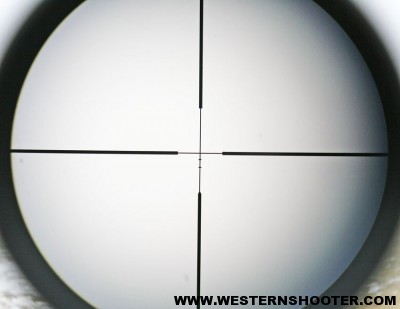 Durablity
So far no issues. I have complete confidence in it. I used it for shooting a New Years day 3 Gun Man on Man match and ended up winning in my division. Many people at the match complained of not being able to see through their scopes as there was snow and the sun was right behind the targets. I had no problems and the rifle portion of the match is what enabled me to win. Weather.com reported the temperature to be -3ºF at the location of the match at 8:00AM. We started shooting just after 9. My shooting glasses fogged but I had no issues with the scope.
Warranty
Sightron has the same warranty on the SI as they do on their much more expensive SIII's. If it's a manufacturing defect they'll fix or replace it. You don't even have to be the original owner. Know one can expect more than that.
Conclusion
This may be the best scope in the world for the price. The optics are unbelievable. If you are on a budget you can't do better than this scope.