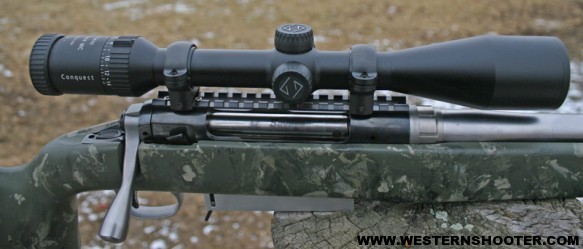 Last summer I decided that if the perfect hunting scope existed, I would find it. Of course "perfect" is subjective as everyone has a different opinion of what "perfect" is. My perfect bucket list is known to change depending on application. For a medium to long range hunting scope I think its important that it not be too big or heavy, have good glass, turrets that can be dialed accurately, enough  eye relief to be used on a magnum rifle, have a good reticle with the ability to make fast holdover shots, enough magnification to make the long shot,  waterproof, fogproof, durable, etc. It also needs a good manufacture warranty to back it up just in case your horse rolls down a mountain with it.  Last, it shouldn't require robbing a bank to buy one.  I ruled out an unbelievable number of good scopes  for one reason or another, including some very big name expensive scopes. A scope would seem like it was working but then would fall short in one of the categories I listed as being important. Things got so bad that I had an excel sheet with specs, eye relief, field of view, price, adjustment range, and any other data that I could get in an excel spreadsheet. I was analyzing reticles and  comparing glass in scopes every opportunity I got.  Eventually, I came up with the scope that is as close to perfect as I believe exists right now. The Zeiss Conquest 4.5-14X44mm with Rapid Z800 Reticle. I read every review I could find on the Internet and most people were very pleased and happy with their Conquests. I never did find an in depth review of the scope so here goes.
QUICK SPECS
| | |
| --- | --- |
| Magnification | 4.5-14x |
| Effective Lens Diameter | 44 mm |
| Exit Pupil Diameter | 9.7-3.1 mm |
| Twilight Factor | 12.7/24.8 |
| Field of View (ft/100 yards) | 24.9-8.4 ft |
| Diopter Range | +2/-3 dpt |
| Eye Relief | 3.5 in |
| Parallax-Free (yds) | 30 – ∞ |
| Square Adjustment Range (in/100 yds) | 42.8 |
| Adjustment per Click (in/100 yds) | 1/4 |
| Center Tube Diameter | 1 in |
| Eye Piece Tube Diameter | 41 mm |
| Objective Tube Diameter | 50 mm |
| Nitrogen Filled | yes |
| Reticle in Image Plane | 2 |
| Length | 13.9 in |
| Weight | 17.11 oz |
OPTICS
The optics are exceptional and everything you would expect from a high end optic manufacture. Color and clarity are excellent. The scope is bright and the glass is clear and without aberration to the edges. You won't be disappointed in the glass. The optics are good enough to get you right down to the last seconds of legal shooting time and then some. Compared scope to scope with a new Leupold VX-3  4.5-14X50 LR the Zeiss Conquest was the obvious winner in the glass department.
EYE RELIEF
At 3.5 inches the Conquest is just better than average. However, I found it to be fine and enough for all of my shooting applications. I have never felt in danger from the scope and haven't noticed the eye relief change much if at all  through the power range.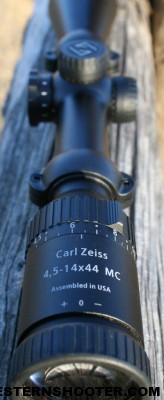 TURRETS
The turrets are crisp, tight, positive, and are resettable to zero without tools by pulling up, turning, and pushing back down. They don't have numbers and the ¼ lines don't go all the way around the turret. Not sure what Zeiss was thinking on that one.  I don't like the the turret covers but they're not deal breakers. Being plastic they don't show scratches and if hit hard enough to cause damage would probably pop off instead of breaking. Overall the turrets work, I just wish the markings went all the way around and that the dust covers were higher quality.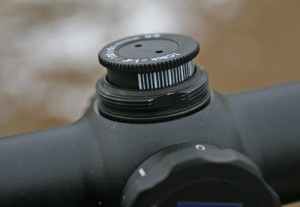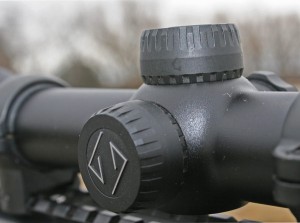 The scope can be sent to Zeiss and have their target turrets installed for $50 per turret. Once you've had the target turrets installed you can replace their turret with a custom BDC style turret. The Zeiss target turrets are an option on the Zeiss Conquest 4.5-14X44 with duplex reticle and are excellent turrets.
SIDE FOCUS
The side focus is tight, stays put, and is easy to focus. For really accurate shooting past 100 yards a good side focus or adjustable objective is important as paralax can cause real problems if not adjusted out.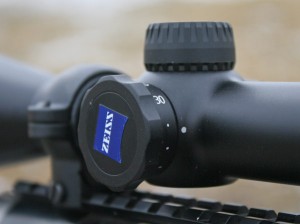 RETICLE – Rapid Z800
The Rapid Z800 reticle is one of the  things you need to experience for yourself. The Rapid Z 800 reticle gives you the ability to shoot  from 1 yards to out to or just past 800 yards without touching anything on your scope except the side focus. The reticle has yardage numbers down the side that correspond to range.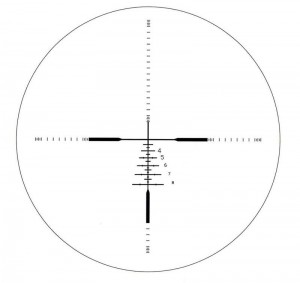 Zeiss has a ballistic calculator on their website that shows you exactly where impact will be based on your load. You also have the ability to sight in a little high or low to make it be more exact at longer ranges. Zeiss also offers a Rapid Z600 and Rapid Z1000. The rapid Z600 is designed for cartridges that traditionally don't have the velocity of the new magnums. The Rapid Z1000 is designed for the .308 Winchester. It's worth it to spend some time on the Zeiss calculator (you can use it for free) and see which reticle matches your cartridge and load the best.  Remember, elevation, temperature, and bullet B.C. make a big difference in trajectory so make sure your inputs are correct.
If you have a rifle or load that just doesn't want to match up to the reticle, the calculator gives you the option of optimizing the power setting for your load. It then changes the power setting on the scope that you use the reticle at to make it more closely match your load. Instead of using 14x you might optimize at 12.5x. It's not as complicated as it sounds. Also, I find it rare for targets in the field to be exactly at 700 yards. More likely 742 or 678. The reticle gives you a good enough reference point to make hits even if the stadia lines don't exactly match the yardages.
I love the reticle. It can easily be adapted for different bullets, loads, elevations, etc. I carry a phone with a ballistic program installed on it in the field. This allows me to see exactly what my holdover will be as conditions change. I have made hits on clay pigeons using holdover out past 700 yards with this scope.
Zeiss has a great presentation that goes through features and theory of the Rapid Z. Click here.
For the Rapid Z Calculator click here
POWER RANGE
The 4.5-14 power range is nice. 14x is still plenty of power to shoot 1000 yards and 4.5 is low enough to make close shots and find your target in a hurry. No matter what power of scope you own there will always be a tradeoff involved. Higher powers can be nice for shooting extreme distances but usually require a larger scope and objective. High powered scopes don't work well for quick fast shots. Low powered scopes usually leave you wanting more power at long range. The 4.5-14 Conquest is a good compromise between high and low power.
TRACKING/REPEATABILITY
The scope tracks perfectly. The adjustment range is 42.8 inches at 100 yards which for a hunting scope is a little above average. The other thing about the adjustment range is that it is square, a very unique feature. On most scopes, because of the round shape, if you bottom out one of the adjustments it usually bottoms out the other one quickly. So if you have 30 inches windage and elevation adjustment but have to adjust your elevation to 28, it might only leave you 5 for windage.  In a nutshell, on most scopes the turret adjustments can adversely affect each other. The Zeiss,  because of the square adjustments, doesn't have this problem. The windage and elevation are independent of each other.
DURABILITY
On my mule deer hunt I took several pretty tough falls. We were up in shale slides that literally had mountain goats living in them. We also were in snow and ice and my rifle took some major abuse. Between the falls and riding in a saddle scabbard for close to 60 GPS measured miles plus the miles on my back, the scope came through shining like a star. It held zero and never once had any kind of problems. While riding in the saddle scabbard the scope eyepiece literally got packed with snow several times from trees dumping loads of snow. The scope never fogged and the eyepeice had no problems with the snow.
DIMENSIONS/FINISH
The finish is a nice matte black that has a look of quality. The tube is a 1 inch tube and saves you a little weight over the new 30mm tactical scopes. The scope fit into and pulled out of a saddle scabbard without hanging up which in my opinion is a good test for a scope being to big and bulky.
WARRANTY
Zeiss has one of the best warranties in the business. The warranty can be transferred to someone other than the original owner. In my opinion this really helps a scope keep its value. Zeiss has been in the optics business for over 150 years and knows how to stand behind their products.
CONCLUSION
The Zeiss Conquest 4.5-14×44 Rapid Z 800 is a winner. It is the scope that currently matches my "perfect hunting scope" bucket list the best. I love the reticle, the glass is phenomenal and I've proven the scope works in the field. I think anyone that tries one or owns one now would agree that the Zeiss Conquest 4.5-14×44 with Rapid Z is at the front of the line for being the "perfect" medium to long range hunting scope.