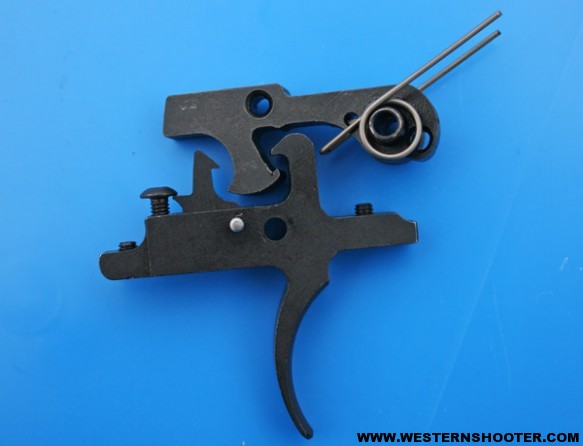 You can have a great rifle and not achieve all the accuracy potential if you have a poor trigger. This couldn't be truer than in case of the AR-15. Many of the AR-15's built have potential for being accurate, however, most of them ship with an 8-10 lb mil-spec trigger that is gritty and has a lot of pre-travel. Heavy, gritty, triggers make it difficult for anyone to shoot tight groups.
One of the easiest things you can do to cut group size and aid in overall accuracy is to add a quality aftermarket trigger.
I recently installed a 2 lb Jard Adjustable Single Stage Trigger and am very happy with it. I am getting consistent trigger pulls in the 2.3-2.4lb range which is great. My trigger is crisp, light, and consistent.
A nice feature of the Jard Trigger is that you don't have to use a lighter hammer spring to get a lighter trigger pull. So far I've only shot Mil-Spec Primers which are very hard and I have not had any light strikes or failures to fire.
The Jard Adjustable Trigger is adjustable for pre-travel or sear engagement, over-travel, disconnector engagement, and safety.  You can also purchase springs that will adjust the trigger pull weight up or down.  Jard offers this spring in weights that equate to  1.5, 2, 3, 4.5, & 5lb trigger pulls. I want to say that this spring only costs $5-7 and can be purchased directly from Jard.
My Jard trigger has very little creep or pre-travel. I could have adjusted slightly more out but wanted the gun to be safe for competition and hunting. When I say it has very little I'm comparing it to an expensive bolt action trigger group that has none. At the last 3 gun match I had a fellow shooter try my Jard trigger. He immediately had a large grin come across his face and then said something like, "is that legal?"
I wasn't able to adjust out all the over-travel in my particular trigger. My lower receiver may be slightly out of spec and your results may be different. I actually like a slight amount of over-travel in my triggers as I think that too abrupt of a stop may cause the rifle to move. The slight over-travel in my trigger is as I would wish it.
The safety adjustment allows you to make adjustments so that there is no movement of the trigger when the safety is engaged. Mine adjusted easily and there is NO movement of the trigger when the safety is on.
My trigger has no side to side movement at all. This could be partly due to using some JP Enterprises Oversize Trigger Pins that fit my lower really tight. I didn't have to do anything to the Jard Trigger to get them to work together although it was a tight fit.
I didn't think that the trigger install was difficult. However, I thought that Jard could have used some better pictures or illustrations in their installation literature.
A novice should be able to install the trigger in under an hour.
I am happy with the Jard Trigger and think that it's an excellent AR upgrade especially when you consider the price on the trigger. I would buy another Jard Trigger.
Brownells and MidwayUSA both sell this trigger for around $149.
Installation Tips
The trigger comes with blue loctite. Use it! I am certain that if you don't the adjustment screws will walk out under fire.
Degrease the screws and screw holes before applying loctite so the loctite will work.
The loctite takes 20-30 min to set up so you will have time to make adjustments.
Have some gun grease on hand and grease wear areas and moving parts before final install.
Buy a ¼ – 28tpi x .5 inch hex head screw so you don't have to use the flathead one that Jard provides for your pistol grip.
Buy a ¼ x28tpi tap. You can get them at your local hardware store for around $5. It's more than likely that you will need to finish threading the pistol grip hole in your lower receiver. Use oil with the tap. If you don't know how to use a tap do a google search. It's very simple.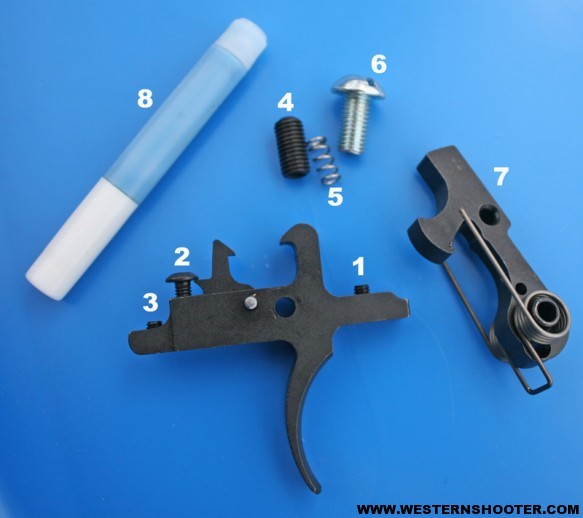 Overtravel Adjustment Screw
Disconnector Adjustment Screw
Safety Adjustment Screw
Sear Engagement (Pre-Travel) Adjustment Screw. Goes in the same hole as your pistol grip screw and may require you to tap the hole.
Trigger Spring (Corresponds to Trigger Weight).
Shortened Pistol Grip Screw (Provided by Jard)
Hammer
Blue Loctite (medium strength).
Jard Installation Instructions
Here is  a different take on install directions from AR-15.com