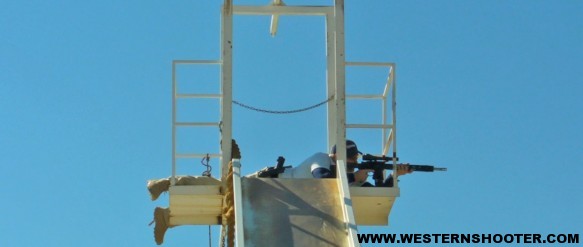 The MGM Ironman is the biggest and toughest 3 Gun competition in the world.  That's why close to 300 shooters migrate to Parma, Idaho each June for an entire week to shoot the 3 day match. Even though the match directors split the match into two 3 day sections to accommodate more shooters, there was still a waiting list to shoot the Scoped Tactical division.
Due to the high round count and extremely long stages, many shooters view the MGM Ironman as the ultimate test of their equipment. Official round counts were just a few rounds shy of  1000 rounds, and that's if you shot a perfect match. Many shooters shot twice that amount of ammunition. By my own calculations there was somewhere around a half-million rounds fired at this years Ironman alone. The stages are so long at the Ironman that "timing out" is a common occurrence and happens when a shooter can't finish the stage in the allotted 8 minutes.
The Ironman this year featured some unique props including the zip line, tower and slide, underground tunnels, and mp5 in full auto (provided).
Parma, Idaho in June also adds elements of its own to the match. Rain and wind have come to be expected and this year was no exception. The Parma Rod & Gun Club range is famous for having a fine dust that blows into every crevice of the human body and stops guns halfway through stages. Many competitors feel they have had a successful match if none of their bones or guns are broken at the end. I might mention that I witnessed Matt Burkett's shotgun fall apart on the long range stage when his piston broke into two pieces. He finished the stage with someone else's shotgun. Even after his shotgun fiasco, he managed to win 2nd in  Open Division by doing some great shooting.
Part of what makes this match unique is that shooters help each other. Many shooters had to finish stages with someone else's gun or ammunition and coaching is allowed. I received much appreciated advice and coaching from members of my squad. The RO's were also great and did their best to be fair and helpful.
Daniel Horner of the AMU took first place this year in the scoped tactical division and was followed by a list of shooters who are famous for winning matches not only in 3 gun but other disciplines as well. The match hosted the who's who of shooters including but not limited to Daniel Horner, Bennie Coolie, Tyler Payne, Dave Neth, Matt Burkett, Mark Hanish, Barry Dueck, Travis Gibson, Chuck Anderson, Rob Romero, Robby Johnson, Patrick Kelley, Mike Voigt, Iain Harrison, and Ben Fortin.
I had the privilege of shooting in the same squad as some of these great shooters. Bennie Coolie, despite major ongoing ankle problems, put on a clinic with his rifle only missing a handful of shots over the entire match and placing second to Daniel Horner. Also shooting on my squad were 4 Time Limited International Revolver Champion John Bagakis, notable 3 gunner Keith Garcia of The Practical Shooting Academy, and Henrik Blixt, an all around great shooter who still holds records in Europe.
Being my first time shooting the MGM Ironman, or even a major 3 gun match, my main concerns were my equipment and not being DQ'd. I am happy to report that my equipment worked great and I did not get DQ'd.
My guns worked extremely well in spite of not cleaning a single gun or magazine the entire match. I had only a few minor problems with my shotgun when the magazine tube didn't quite push the loaded shell out. The problem occurred after shooting full power slugs and cost me only a couple of seconds to remedy.
Mike Gibson Manufacturing  (MGM Targets) ran a professional match and is a great supporter of competition shooting. They make the very best steel targets available.
The prize table was great thanks to the incredible sponsors who support the MGM Ironman and the shooting sports. Every competitor got to walk the prize table and received a prize. Obviously the better you shot, the better the prize, but even if you had a rough match you didn't leave empty-handed. Next time you buy something, make an effort to support the great companies that support the shooting sports (list of sponsors at bottom of page).
I had an a great time at the Ironman and will be shooting it again. I learned a lot about my equipment, shooting skills and 3 gun. The MGM Ironman can teach you things you can't learn anywhere else. Make the effort next year to come test your skills and equipment at the biggest and toughest 3 gun match in the world.
Following is a brief overview of the equipment I used. I will be posting complete reviews of specific equipment in the future.
HANDGUN
Glock 34 – Other than when I death gripped the slide on the zip line, it worked flawlessly – I guess you can't hold on to the slide and shoot at the same time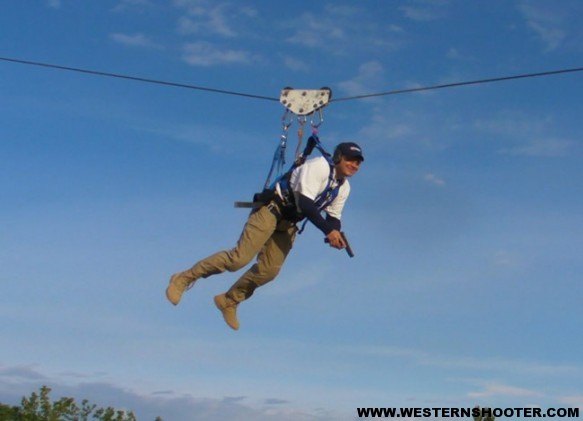 Grip Force Adapter
Holster & Belt
Safariland ELS Belt System
Safariland Holster
RIFLE
AR-15 – Ran like a sewing machine. I never cleaned it. Still haven't. Just kept it oiled.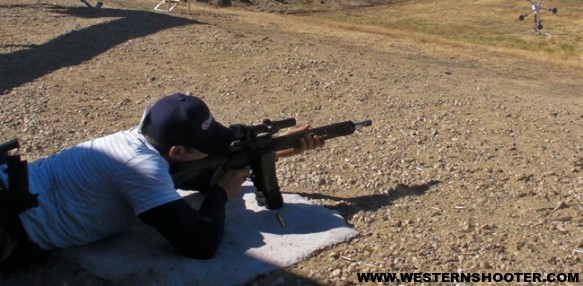 Mil Spec Upper
–          JP 18' Barrel
–          JP 15'handguard
–          JP LMOS Bolt Carrier Group
–          JP Adustable Low Profile Gas Block
Lower Mil-Spec
–          Magpul UBR Stock
–          Magpul Bad Lever
–          Magpul MOE Grip
–          Arredondo AR Magwell
Magpul PMAG 20 Round
Magpul 30 round PMAGs coupled
Arredondo Mag Coupler
Nordic Components 48 Round PMAG Extension
QD Micro MOUNT-N-SLOT
Viking Tactics 2 Point Sling
Optics
LONG RANGE RIFLE
DPMS LR-308 with Heavy 24 inch barrel (I got all the long range bonus targets).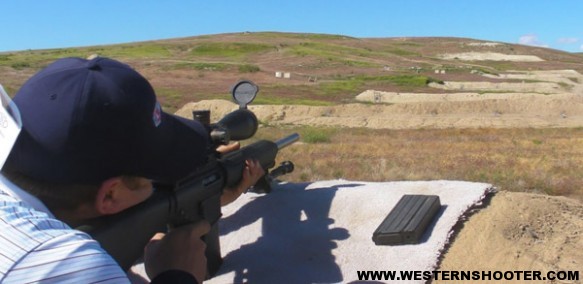 Long Range Rifle Optics
Sightron SIII 6-24×50 LR MOA (New MOA Reticle & Turrets)
SHOTGUN
FNH SLP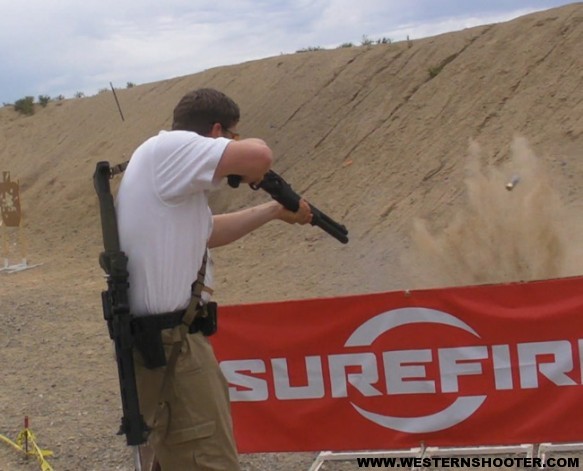 Arredondo Bolt Carrier Release
Nordic Components Bolt Handle
SureCycle System
Safariland/California Competition Shot Shell Caddies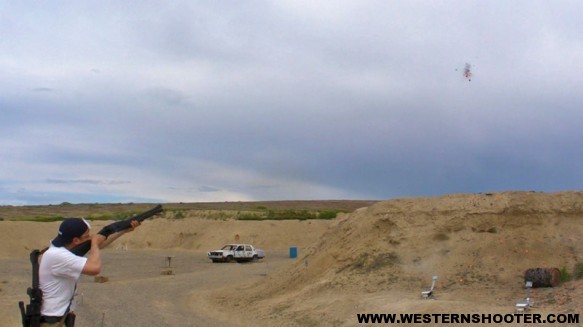 MGM Ironman Match Sponsors
MGM Targets
FNH
Surefire
JP Enterprises
Safariland
Leupold
Warne Mounts/Tactical
Montana Bullet
PWS
Higher Capacity
STS Arms
Gemtech
Crimson Trace
DPMS
Seekings Precision
Blackhawk
Center of Mass COM
XRail
ESP
Vortex Optics
Tactical Solutions
Arredondo
LaRue Tactical
Brownells
Ergo Grip
Calvary Arms
Techwear
Cal-Tac
Shueman Barrels
RJ's
C&M Targets