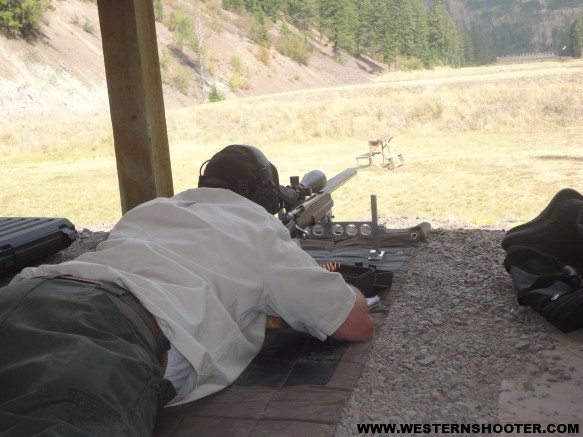 It has been a very busy summer for me shooting long-range F-Class. I shoot F-TR (1000 yards with a bipod) with a Savage F-TR rifle in 308 Winchester. My big wins were the Idaho State Match and the NRA Northwest Regional Match in Missoula, MT. Below are a few thoughts regarding lessons learned during this season of shooting.
Bipod Thoughts
The season started out pretty rough. The first match I forgot my good bipod and had to use a Harris 9-13 inch non swivel bipod. My wife brought my MC Werks bipod after I had shot the first relay. This experience made me remember how hard it is to be consistent off a Harris bipod. The whole first relay I had pretty bad vertical stringing. The Harris bipod is hard to be consistent in loading the legs; a bipod with skis is a lot easier because the legs can't be loaded. The bipod is always neutral.  Read more here.
Barrel Cleaning 
One of the biggest things I learned this year was that it is important to clean the barrel more than I thought I needed to in the past. I used to only clean my barrel about every 200-300 rounds. The big problem with this is not a drastic loss in accuracy; but, the amount of carbon that builds up in the throat area that is impossible to get out without abrasive cleaners like JB paste.
My cleaning regimen has always been to just leave Hoppes no. 9 in the barrel over night or until I was going to shoot it next and then patch it out and go shoot. I have since learned that a barrel really needs to be cleaned every match or every 50 to 60 rounds if the rifle is being shot regularly in practice.  The throat area really needs to be scrubbed thoroughly with a brush. The loss of accuracy from not scrubbing will not be seen in a few hundred rounds; but, after a couple thousand with a 308 you will start to see the effects of not cleaning properly.
Reloading Technique Changes
I have switched to Lee dies for reloading. I really like their full length sizing die. It is finished to a smooth finish and it also has the expander ball very high in the die so the case is supported as it is dragged over it. I feel this helps with run out issues associated with other full length sizing dies that have the expander ball very close to the mouth of the die. I think full length sizing is better for loading large quantities of match ammo; especially when you are using brass that has been shot various numbers of times.
Optics
The scope I used this year was a Sightron SIII 8-32×56 with a fine crosshair. The scope worked great the whole year. Last year I used a SIII 6-24 with a mil-dot reticule. The fine crosshair allowed me to pinpoint where I was aiming on the target better. The repeatability of the adjustment on both scopes has been perfect. They also gather light very well.
New Barrel
The biggest change I made this year was finally breaking down and putting a new barrel on my Savage rifle. The factory barrel still shot pretty well; but, it was getting finicky about how many rounds it would shoot before losing accuracy. It also was taking quite a few rounds after cleaning to settle in and shoot. I put a Criterion barrel on it from Jim Briggs of Northland Shooters Supply. The rifle has shot great ever since. I have been able to get 5/8 to 3/4 inch groups at 200 yards.
Here is a list of some of the equipment I used this year:
Savage F/TR Rifle
Bell and Carlson Stock
Sightron SIII 8-32 Scope
Berger 185 grain Bullets
FC  Special Ball Brass (weight sorted and match prepped)
CCI Benchrest Large Rifle Primers
Protektor Rear Rabbit Ear Bag
MC Werks bipod