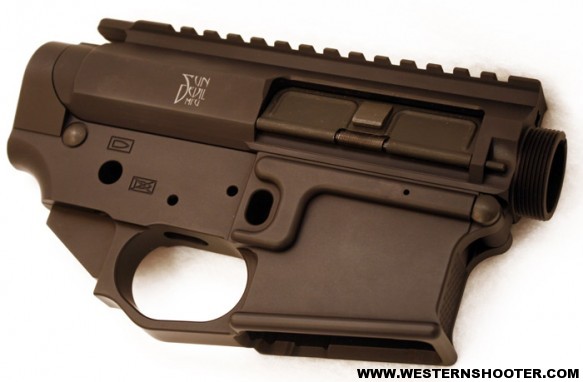 Many shooters are curious about the advantages of using a heavy-walled billet receiver for their AR-15 build. Accuracy, in a word, is the biggest advantage. Heavy-walled billet receivers are more rigid or stiff. A more rigid receiver will prevent excess movement and flex when a round is fired. It will also help reduce harmonics that are damaging to accuracy. The series of events before, during, and after a round is fired are more likely to be consistent with a rigid upper.
The M16/AR-15 platform's original design was for military use and as such had every extra ounce removed to keep the gun lightweight. Regardless of its lightweight receiver, the M16/AR-15 came out inherently accurate. Stiffening the upper receiver can help make the inherent accuracy more consistent.
Consider the upper receiver the nucleus of an AR. The barrel attaches to the upper receiver; the bolt reciprocates through it; the lower receiver consisting of your firing group and stock attach to the bottom of it; if you use optics, they mount on top of it; even free float handguards attach to the upper receiver. When you consider that the upper receiver holds everything together, you can see the advantage to having one that is rigid.
Most people can take a mil-spec stripped upper receiver and flex it in almost any direction with their bare hands. It takes a strong person to get any flex out of a heavy-walled billet receiver. While a mil-spec receiver is strong enough and generally will provide decent to very good accuracy, a heavy-walled billet receiver takes another factor for inconsistent accuracy out of the equation.
Sun Devil Manufacturing is a leader in billet aluminum uppers and lowers. All of their receivers are milled in state-of-the-art CNC milling machines and are held to much tighter tolerances than a standard forged receiver. Sun Devil is the manufacturer, not a rebranding company like so many of the other AR manufactures.
Sun Devil has done an exceptional job of engineering their receivers for both cosmetic appeal and function. They have added material in key places to add rigidity and strength but have not added unneeded excess weight. The octagonal shape of the heavy upper adds appealing and unique style that screams custom build. In addition to looking fantastic, the receivers still work with almost all aftermarket accessories available for AR-15's.
The Sun Devil Heavy-Walled Billet upper receiver weighs 10.8 ounces and is substantially thicker and more rigid than the the mil-spec upper that weighs 8.2 ounces. The 2.6 ounces of weight gain is a favorable trade off.
Sun Devil Manufacturing has done extensive research and testing for optimum metallurgy. David, the owner of Sun Devil Manufacturing, tells me that for safety reasons they have chosen not to manufacture receivers in the traditional 7075 aluminum, he feels that due to improvements in available materials and processes there are now superior alloys. Sun Devil Manufacturing prefers 6061, an alloy used extensively in aircraft. David explained that 6061 has better elasticity than 7075 and is less likely to fragment into  pieces in the event of a catastrophic case failure. Yet another reason to go billet.
Additionally, Sun Devil Manufacturing has some unique features available on their billet receivers. One is the tensioning screw found on the lower receiver. The tensioning screw is a nylon-capped set screw. It allows a user to add tension between the upper and lower receiver resulting in a rock solid fit. While opinions differ regarding upper and lower receiver fit and the effects on accuracy, it's my opinion that having things tight is almost always better. The opposing argument is that the optics or sighting system are not attached to the lower so "slop" between the upper and lower should not affect accuracy. While in theory they have a point, I disagree; a super accurate rifle is a complete system and can only be as consistently accurate as its weakest part. I see it as analogous to a bolt action that isn't properly bedded or is loose in the stock. Even if I'm wrong, it is super annoying having an AR that is loose and sloppy between the upper and lower receiver.
Some other cool features include the integrated oversize trigger guard and the oversize flared magwell. Because the trigger guard is integrated, it's stronger. It eliminates the annoying gap that mil-spec lowers have between the trigger guard and the grip.  If you shoot handguns you already know how important it is to keep a high grip on your gun. The  Sun Devil integrated trigger guard allows for a higher grip than any other trigger guard that I'm aware of. Once again it is larger than mil-spec, allows for use with gloves, gives a higher grip, and is cosmetically superior. It's a great added value.
The magwell also has some extra bevel on the inside lip to aid in smooth and fast magazine changes.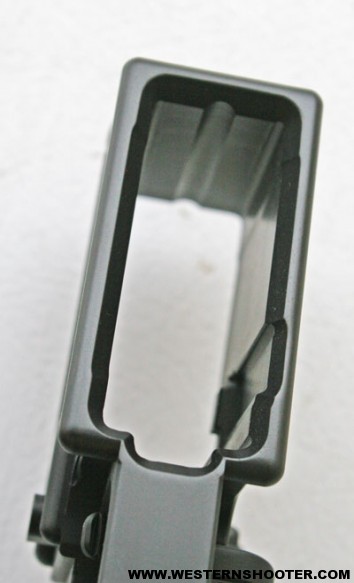 The heavy billet upper receiver comes in two configurations: (1) with a forward assist and (2) without a forward assist. I prefer the slick side receiver without the forward assist. I am glad that Sun Devil decided to still include a dust cover on the slick side model as it's important to be able to keep dust and dirt out of the receiver and bolt.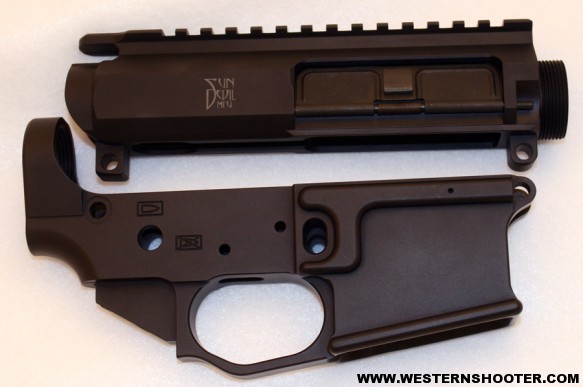 Finally, the fit and finish on the Sun Devil billet upper and lower receivers is perfect. There are no machining marks, even on the inside of the receivers. The anodizing looks excellent and is on par with the best I've seen.
The Magpul MIAD grip requires minor fitting to fit the Sun Devil Lower. It took me approximately 5 minutes with a dremel equipped with a sanding drum to remove enough material from inside the beaver tail to make it fit; easy. I'm told ERGO grips fit perfectly.
If you are looking for non-traditional, Sun Devil offers their receivers in a large number of colors.
Considering the quality of the components, the unique features, and the potential accuracy benefits of a heavy billet receiver, Sun Devil's receivers are a bargain. You can buy a stripped receiver set directly from Sun Devil for just $320. Sometimes you can find receivers on sale at a better price at one of Sun Devil's dealers. Sun Devil offers reasonable prices on the additional parts needed to finish your build.