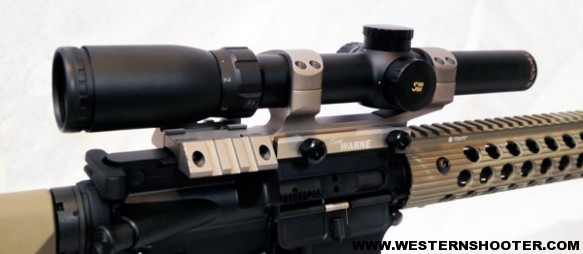 Sightron SIII 1-7×24
Last year I wrote a review of the Swarovski Z6i 1-6×24 BRT riflescope and gave it the title of the best 3 gun scope in the world. I now have to clarify that title just a little. The Swarovski retails for $2500 and is worth every penny if you need the best; so it's the best 3 gun riflescope at any price. The Sightron SIII 1-7×24 is easily the best 3 gun scope or 1x variable scope in the world for under $1000 dollars. It's probably the best for under $1500, but I haven't tried some of the newest offerings that have come in around $1500. The good news is that the Sightron 1-7 can be bought for well under $1000. In fact, at the time of this writing, Optics Planet has it for $689 with free shipping.
The Sightron 1-7 pros are that it has glass equal to scopes that cost over $2000, great field of view, excellent eye relief, tracks like a target scope, has tool-less re-settable turrets, 30mm tube, over 100 MOA adjustment, true 1x,  an amazing power range, fantastic warranty, and is more than fairly priced. The cons are the current lack of reticle options and the illumination not being sunlight illumination.
Glass
The Sightron 1-7×24 IR4A features Sightron's Zact 7 fully multi-coated precision ground lenses and is exceptionally bright and crystal clear. After hours of comparison in many different lighting situations, I concluded that the glass is on par with the Swarovski  Z6i 1-6. Because I was sure that no one would believe me when I made this claim, I sought some outside help. Both the Sightron 1-7×24 and the Swarovski Z6 1-6×24 were tested on a collimator. In case you're not familiar with these, collimators are a very expensive optical instrument used by laboratories that can measure resolution, tracking, reticles, and light transmission in microscopes, riflescopes, imagers, etc. The test results showed the two scopes to be very comparable in all aspects. If you want the technical details, read on, otherwise skip down to FIELD OF VIEW section below.
The industry standard for resolution measurements goes back to the 1951 USAF resolution test chart which was established by the U.S. Air Force.  In this case,  for resolution, the lower the number the better.  The Sightron 1-7×24 scored a 6.3 on high magnification and 15.7 on low magnification. The Swarovski Z6 1-6×24 scored a 5.7 on high magnification and 20.9 on low magnification. It's important to note that different collimators will give slightly different results and also that the results are also somewhat subject to the technicians own eyes. In this case, both scopes were compared at the same time on the same collimator by the same technician. The results are very similar and both optics have fantastic resolution. Additionally, clarity to the edges and chromatic aberrations were found to be relatively the same but could vary from scope to scope. In light transmission testing, higher numbers are better. The Sightron 1-7 scored 92% total light transmission and the  Swarovski 1-6 scored  90% total light transmission.  Once again, you can't compare this light transmission score against published light transmission scores from other optics manufactures, different collimator, different technician.  Just know that Swarovski has some of the best in the industry for light transmission.
The collimator testing was done independent (I wasn't present) of my own testing but was consistent with what I found; both scopes have great glass!
Field of View
While the Sightron has amazing glass that is in the same league as the Swarovski, it falls short of the Swarovski in field of view. On 1x the Sightron still has an excellent field of view with 91.9 feet at 100 yards which is as good as or better than many of the popular 1-4 scopes. The Swarovski has an industry best with 127.5. However, the Swarovski is "feet" ahead of all other competitors not just the Sightron in this category.  The Sightron's field of view is still excellent and when looking through the scope, the FOV seems very large (not at all tube like). With the Sightron on 1x it's easy to shoot with both eyes open.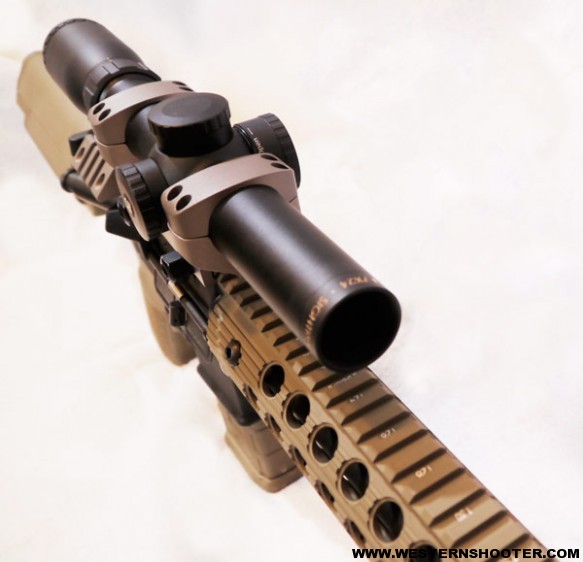 Illumination
The Sightron's illumination was designed for hunting and is not true daylight illumination.  It can be seen in full daylight, it's just not super bright like the true daylight dot in the Swarovski. The illumination works great in low light situations where it would be difficult to see the reticle without it. I'm told the daylight illumination will improve in 2013. The illumination can be switched between red and green and has a number of power settings that are easily adjusted. Installing a battery is unique and I haven't seen another system quite like it. I rarely use the illumination and so can't comment on how long the battery lasts, but Sightron says it will last between 100 and 400 hours depending on the temperature.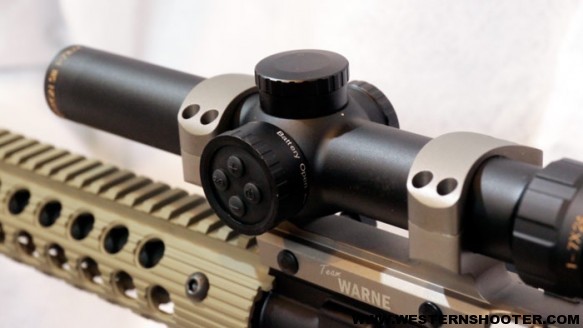 Magnification Range
The magnification range is amazing. The Sightron has true 1x power on the low end and true 7x on the top. Sightron didn't do what some manufactures do and claim 1x when it's actually 1.5 or claim 7x when it really 6.5x.  1x-7x power is a fantastic power range and is definitely an advantage over other 1x power scopes. The 7x magnification makes precision or longer range shots substantially easier and you don't have to give up the 1x speed and both eyes open capabilities on the bottom to get the magnification on the top.    The Sightron beats the Swarovski in magnification range.  I'm excited to see how Sightron can use this power range on their other SIII scopes.

Reticle
The reticle in the Sightron 1-7×24 IR4A works better than I thought it would. When I first saw it, I thought "Oh no! What is this?".  However, after using it, I actually like it. The dot is extremely fast on close targets, and because of the scopes magnification, is very useable on targets at longer ranges. I'm a big holdover reticle fan and I thought this plain simple reticle would be a disadvantage in 3 gun matches. It's not. The extra power gives you the ability to aim more precisely and holding over on targets out to 400 yards is quite easy.  A good friend ran this scope through the 2012 MGM Ironman and finished in the top 15% of shooters. He had absolutely no problem hitting his rifle targets.  I can't even begin to tell you how much easier targets at 300 yards are to hit with this scope over my old 1-4 with a holdover reticle.
Even though the reticle works fine, I expect Sightron to eventually come out with some additional reticle options in the future.
The Sightron 1-7 features a superior etched reticle and will have none of the problems associated with wire reticles.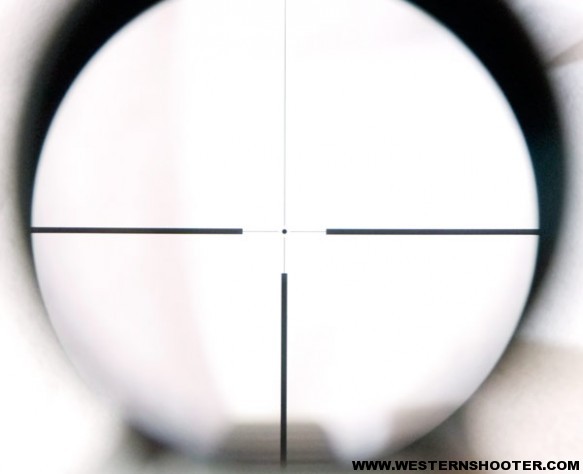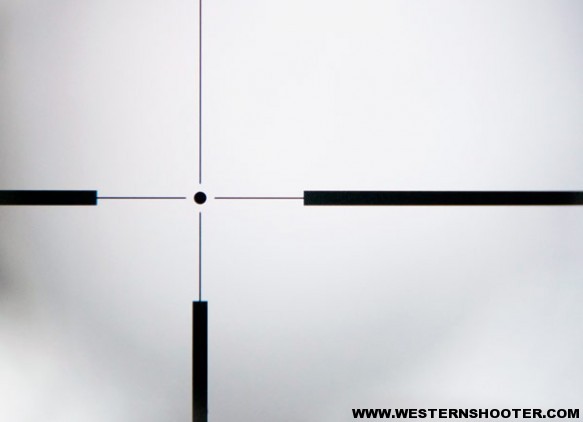 Turrets/Tracking
The turrets on the Sightron 1-7×24 IR4A adjust in mils or .3 MOA per click. The turrets have a huge adjustment range of 50 mils per revolution or 18 MOA per revolution.  The other great feature is that they are tool-less, meaning you can reset to zero by lifting the turret up, disengaging it from the gears and indexing it to zero, all very quickly and without tools.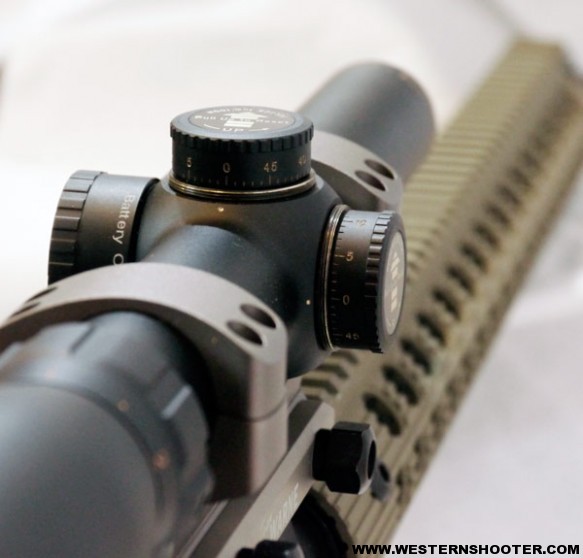 The turret adjustments are positive but a little mushy (they may become more positive with some use). The clicks aren't as crisp as the other SIII offerings but the turrets also aren't target turrets. I ran a box test and the scope tracks perfectly and returns to zero as expected. I have a lot of experience and faith in Sightron's Exac Trac System and find it to be rock solid.
The Sightron 1-7 also has 100 minutes of elevation adjustment, which is way more than the average user will ever need. The average shooter will be hard pressed to find a situation where he needs all the adjustment range this scope has to offer.
Eye Relief/Eyebox Sensitivity
The Sightron 1.7 has 3.9-4.8 inches of eye relief, which is far above the industry standard.  There is also a substantial amount of area (generous eyebox) where you can still get a good sight picture even if you don't have a perfect cheek weld and are not exactly the right distance from the scope, this is especially true on the lower powers.
Customer Service/Warranty
Sightron has excellent customer service and a very friendly and nice staff. I've met most of them at the SHOT Show and they are good people.  The Sightron warranty is fantastic and is as good or better than anything else out there.

Conclusion
The Sightron 1-7×24 scope is a rock solid scope. It has a 30mm tube, weighs in at 20 ounces, and I'm sure is tough enough to handle whatever is thrown at it. Additionally, the scope is made in Japan, not some 3rd world country with poor quality control. I've now got hundreds of rounds through mine and I continue to be impressed.  By spending at least another $1500 dollars, you can match the optics in this scope with a Swarovski. You would have to spend more than that to get a 1-7x or greater power range.  This is without a question the best 1x variable power scope available on the market for under $1000.