A good bipod can extend the effective range of almost any shooter.  For lightweight hunting, the SnipePod has no equal that I am aware of and I've tried just about every bipod made for hunting. The reason its superior is because of its ability to be rapidly deployed, its weight, lack of bulk, versatility, and its minimal impact on zero.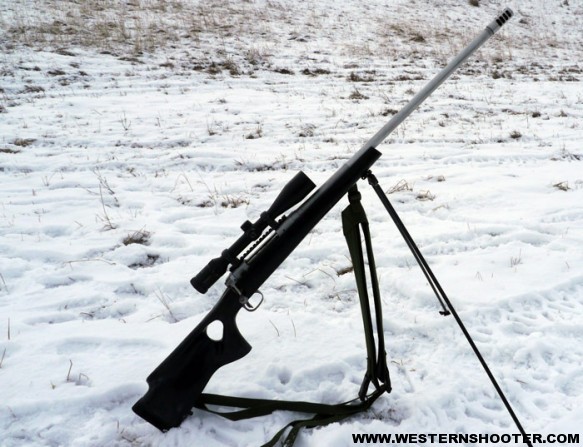 Size/Weight
First, the bipod is lightweight. It weighs only 4.6 ounces. I carry it on my belt 24 hours a day when I'm hunting and don't even notice that it's there. For comparison purposes my smartphone weighs 6.4 ounces.  The bipod legs are made from high quality aluminum alloy tent poles that are extremely strong for their weight. The head that attaches to the rifle is made of cnc machined aluminum and steel. When folded the bipod is approximately 1.5 inches in diameter and 8.5 inches long.
The legs are kept together by an elastic cord like a tent pole and folded for carry. When you shake the bipod, it instantly erects itself. If you are trying to be quiet you can control how hard the legs snap together to mitigate sound.
The bipod comes in different lengths and you should order yours based on your height. With a sitting model– I can shoot sitting kneeling, prone and any other variations that use about those same heights. For sitting you use  the full height of the bipod and move the feet further apart or closer together to adjust the height.  For shooting prone you only allow the first one or two sections of legs to snap together and then adjust the distance between the feet for fine adjustments.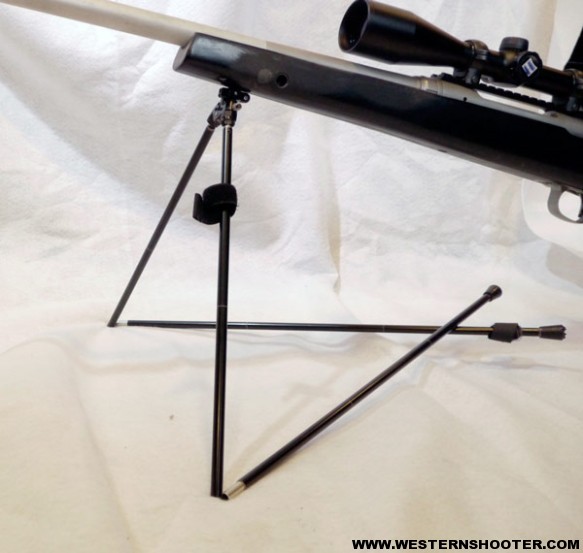 The bipod attaches to the rifle almost instantly using a mount that is pre-installed on your sling swivel stud.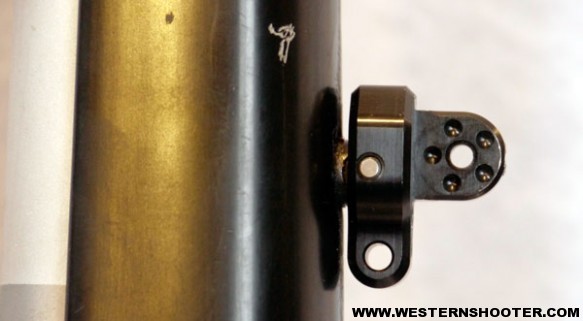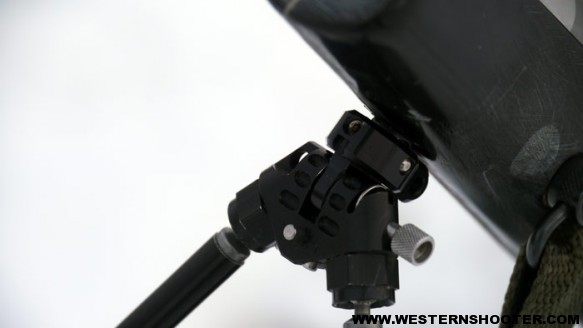 The bipod has bearings in each leg that allow the bipod to cant and pivot so you can shoot at a moving target.  The bipod also has a feature that allows you to "unlock" the bipod and lay the feet up along the barrel of the rifle or back along the stock. It automatically re-locks itself vertical when you push it forward.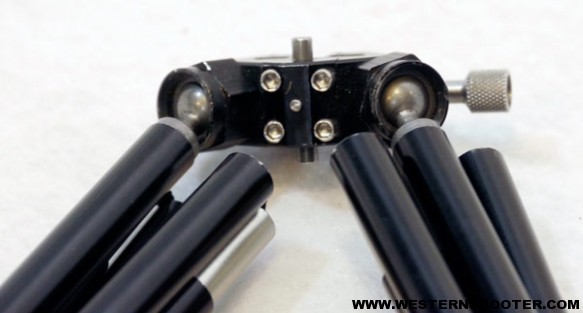 Point of Impact Shift
Many bipods lock up so rigidly with the rifle that shooters have a tendency to "load" the bipod when they shoot. Loading the bipod means you're putting pressure against the legs either forwards or backwards when you shoot. Due to different shooting conditions and terrain, loading becomes problematic when you don't apply exactly the same amount of loading to the bipod. The effect of inconsistent loading is that your point of impact changes drastically from shot to shot or from day to day depending on how you load the bipod.  The SnipePod gets around this problem by not allowing you to "load" the bipod. The SnipePod's  bearings move if you push or pull, thus requiring that you keep a neutral hold on the rifle to line up your crosshairs. The inability to load means that your day-to-day point of impact won't shift. In other words, the bipod forces you to be more consistent in how you shoot your gun.
Using a heavy bipod can also can change the point of impact. If you sight a gun in with a heavy bipod but end up taking a shot without it, you'll likely see a point of impact shift because of the mass or weight that is no longer attached to your gun. Alternatively, if you sighted the gun in without the bipod and then add it, you'll see a point of impact difference.   Because the SnipePod weighs almost nothing it seems to have minimal point of impact changes. I sight my rifle in using the SnipePod prone as that would be the position I would be taking the very farthest shot from. If there is a point of impact shift from prone to sitting its minimal but I'd rather have it be in favor of prone. If I were to take a shot without the SnipePod it would likely be within 300 yards and the point of impact shift from not having the bipod attached is very minimal because of how light the bipod is. In addition, out to several hundred yards I don't care if the point of impact shifts an inch or two.
I have practiced out to 800 yards with the SnipePod and am confident that if all the conditions were right a shot that far is very possible using the bipod. In field conditions I can with relative consistency hit clay pigeons at 600 yards when there's no wind.
You can leave the bipod attached to the rifle all the time but I often have my rifle in a saddle scabbard and so leave it off unless I'm planning on using it. I see it like this: If it's a close fast shot then I don't need a bipod. If it's far enough away to need a bipod, I'll have time to setup and attach the bipod, use the rangefinder, and put in earplugs.  If I think I may be taking a shot and will need the bipod I attach it to the rifle and lay it along the stock so it doesn't hang up on brush.

This year I skipped a week of school (full time law student) and did a back country public land mule deer hunt with one of my good friends. It snowed and rained almost the entire time and was miserable. We had a long ride in every day on horses and would leave camp in the dark and come back to camp in the dark. We were seeing a lot of bucks and my friend's son shot a very nice buck on our second day in.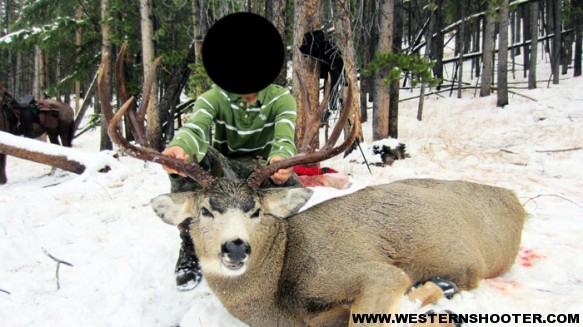 We had found two bucks even bigger than the one already shot (pictured above ) but they were too wary to give us any kind of shot. We spent the entire rest of the trip trying anyway. On our way out for the last time after trying for the big bucks we had to ride through a hole that we had seen some mediocre bucks in. We got high in a shale slide (over 9,000 feet) and glassed the timber and sagebrush. We found several bucks but it was too dark to tell which was the biggest. Since it felt like I was taking a participation trophy at this point anyway, I opted for the closer buck who was a little under 500 yards away and walking away at an angle.  I got my rifle set up using the SnipePod, put my earplugs in, and was sitting in the shale locked on to this buck. It was too dark (everything was still legal) to see the deer with your naked eye at that distance and so I kept the rifle up on the deer and then would use the range finder. I had hoped my buddy could spot the shot for me but we had the mule that day and we didn't trust him not to run off. There was no place to tie up on the shale slide so I was on my own. I did one last rangefinder reading a couple yards ahead of where the deer was walking and then prepared for the shot.  When the shot broke it felt perfect and I actually got to watch the bullet hit the deer and see him go down. I never lost the sight picture (thank you muzzle brake) and was careful when working the bolt not to lose it then. I didn't have to fire a second shot as the first one was perfect. The deer went down in 4 foot high sagebrush and even though I thought I could go right to the spot it still took us almost an hour to find the deer as it finished getting dark fast. The shot described above would not have been possible without the SnipePod. In order to have the angle to see the deer we had to be up high in the shale and it was too steep to shoot any way but sitting. The SnipePod  gave me a perfect rest that I had complete confidence in.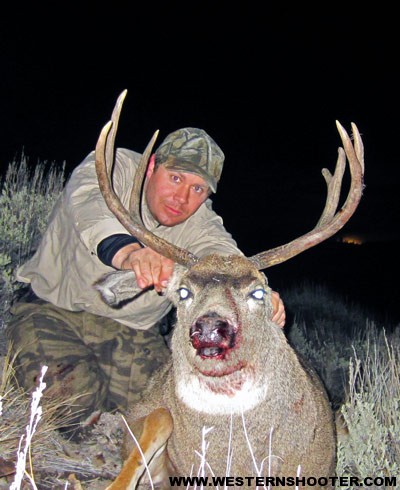 The SnipePod also has an attachment or 3rd leg that allows you to turn the SnipePod into a lightweight tripod. It's really meant for spotting scopes with 50mm objectives but will hold a bigger scope if in a pinch.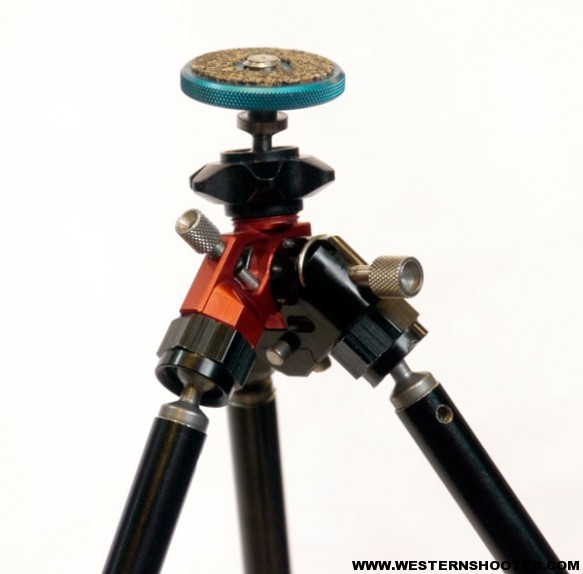 In conclusion, if you need a lightweight packable bipod the SnipePod can't be beat. I've been using one for over 4 years now and would buy it again in heartbeat if I lost it.
The SnipePod bipod is made by Terry Kramer in Montana. Terry has a great website with some excellent illustrations of how the bipod works so be sure to look at that. Kramer Designs Corp Website