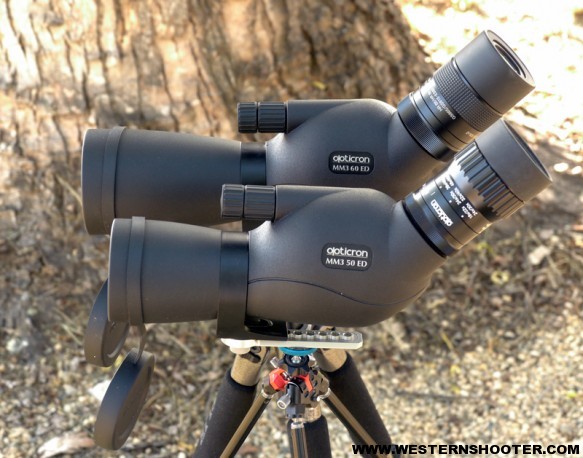 Spotting scopes are an important tool for hunting. I like to use binoculars to glass and grid an area and then use the superior magnification of a spotting scope to examine what I've found. It has saved me miles of walking as well as time because it allowed me to know if the animal I was seeing was a "shooter" without closing the distance. Sometimes closing the distance isn't even an option as you can't get closer and still see the animal due to geographic constraints or not enough light left in the day.
Gear that weighs too much can take the joy out of hunting and make it real work. The idea is to find quality equipment that is smaller and lighter but that still performs the needed job adequately.  Often smaller, lighter gear is a compromise between smaller/ lighter and performance. I've been on the hunt for a spotting scope that was packable and light but that still possessed enough magnification, field of view, and low light performance to work for my style of hunting.
Last hunting season I had the pleasure of testing two micro spotting scopes from Opticron: the MM3 60ED and the MM3 50ED. Both are extremely small and lightweight spotting scopes with the MM3 50ED being the smaller of the two with a 50mm objective. I tested both scopes against each other, a Vortex Razor HD 11-33x50mm, a Leupold 12-40x60mm Gold Ring Compact, and a Sightron 20-60x80mm. I was extremely pleased with the Opticron MM3 spotting scopes. (Please note I don't expect optics with 50 and 60mm objectives to outperform optics with 80mm objectives. Comparing gives a good baseline for what you could see with a bigger, heavier optic)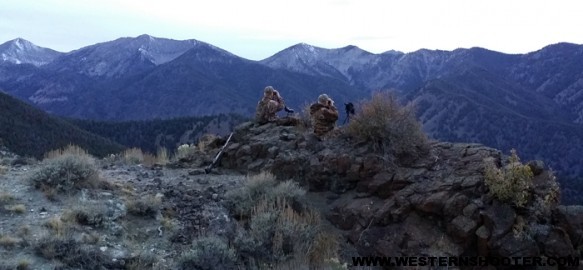 EYEPIECE
Both the MM3 50mm and 60mm have removable eyepieces and I tested both the HDF T and the SDL v3 eyepieces on both scopes. I felt like both eyepieces were superior to the Vortex Razor HD, the Leupold Gold Ring and the Sightron in both quality and eye relief.  The SDL v2 is a nicer eyepiece (it costs more) and it has noticeably more field of view on the highest power on both scope bodies.
| | | |
| --- | --- | --- |
| | HDF T Eyepiece | SDL v2 Eyepiece |
| Magnification MM3 50 | 12-36x | 12-36x |
| Magnification MM3 60 | 15-45x | 15-45x |
| Field (ft/1000yd) MM3 50 | 186 / 87 | 180 / 108 |
| Field (ft/1000yd) MM3 60 | 138 / 63 | 132 / 81 |
| Eyerelief (mm) | 22-17 | 20-18 |
| Weight (oz/g) | 7.3 / 206 | 9.5 / 270 |
| MSRP $ | 319 | 439 |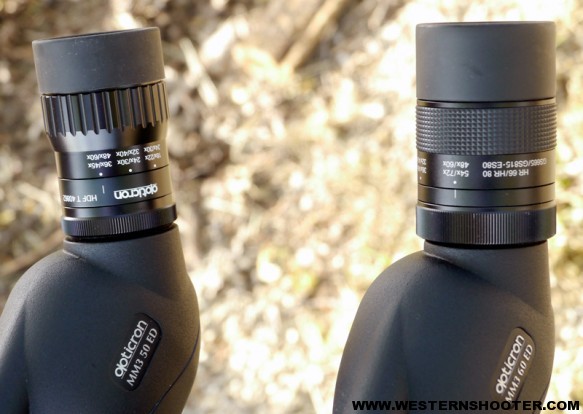 Both Opticron eyepieces had substantially better eye relief than the Vortex. On the MM3's highest power you can still look through the scope without touching the eyepiece. On the Vortex you have to put your eye in the scope. Additionally, the eyepieces moved easily to change magnification. This is important on a small, lightweight spotting scope because you'll move the entire scope and lose the picture (what you're looking at) if it requires a lot of force to move a stiff eyepiece. The Vortex Razor has a fixed eyepiece and just isn't as nice.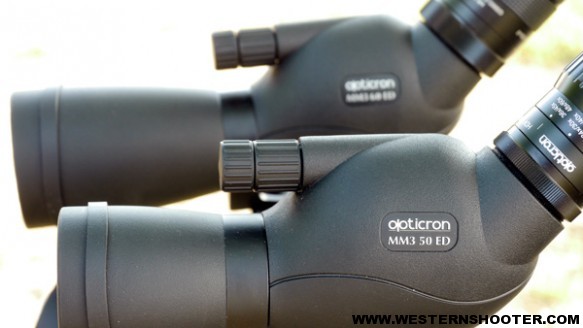 FOCUS
One of the best features of the Opticron MM3 spotting scopes are the position and manner in which you focus the spotting scope and the fact that it has a micro adjustment for focus.  When you use a small, lightweight spotting scope, it's common to match it with a small lightweight tripod. One disadvantage of a lightweight spotter setup is that any touch may move the spotting scope off what you're trying to look at. On the MM3, a light finger touch will move the focus without moving the scope. There are two focus wheels, one adjusts the focus quickly, and the other makes micro adjustments for a perfect focus. In my opinion, this focus setup is what you want. The micro focus ensures that you get a perfect focus and it's easy and fast to get.
SCOPE BODY
The scope body is aerodynamic and feels ergonomic. It has a rubber armor coating that seems to do a good job of protecting the scope body. I didn't have a case for either spotting scope and they beat around in a saddle bag with a tripod on a horse for around 200 miles. Opticron makes a case. I need to get one. Other than a few marks on the eyepieces, they still look brand new.  The fine/micro focus wheel on the 50mm beat off at some point and I lost it. Opticron immediately shipped me out a new one.
I chose to test angled body spotting scopes as I think they are easier to use in the mountains with extreme angles and with a shorter, lighter tripod. This comes down to my personal preference and there are those who would disagree.
The tripod mount is attached to the body with a ring that allows the scope body to rotate and lock at a number of different angles. You can adjust this so that you can shoot a rifle prone and still look through the spotting scope at the same time.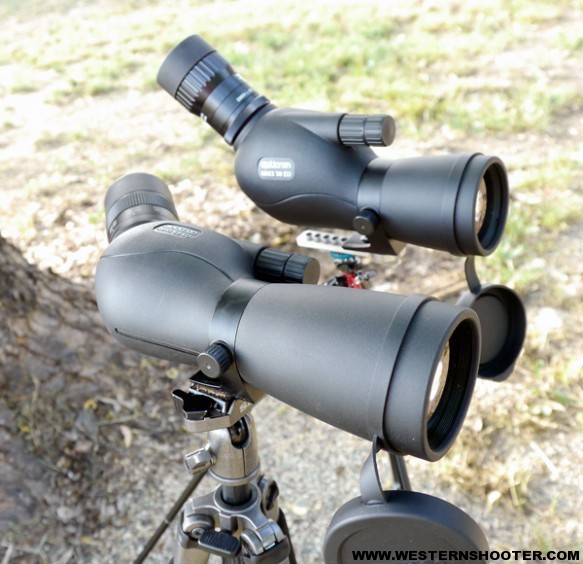 OBJECTIVE
I tested the MM3 50mm ED and MM3 60mm ED scope and was impressed by both. The 60mm objective, by my calculations, gave me about 3 more minutes at dusk. What I mean by this is that you could still see the object with the 50mm but you weren't going to see as much detail or with as much resolution as with the 60mm. The same level of detail would have been present 3 minutes earlier with the 50mm. In broad daylight, you really could not tell a difference between the two scopes when compared at the same magnification. They were both excellent.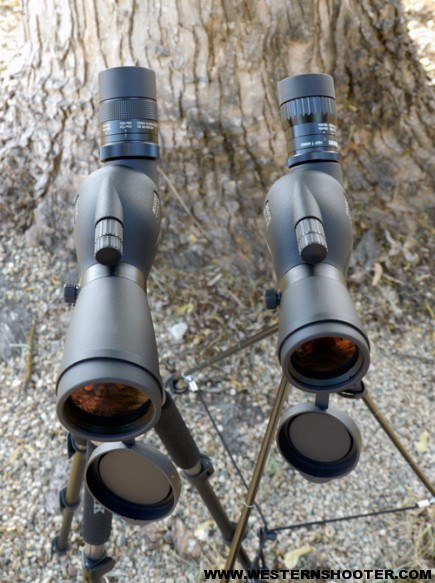 WEIGHT/SIZE
Both scopes are extremely compact and small. The 50mm wins here in both size and weight. The 50mm body is just 8 inches long and weighs 21 ounces without an eyepiece. The 60mm is 10 inches long and weighs 26 ounces without an eyepiece. To put this in perspective my Swarovski EL 10×42 binoculars weigh 28.2 ounces.  If I had to carry one in a backpack I'd choose the 50mm as I don't think you gain enough additional resolution with the 60mm to justify carrying the extra size and weight on my back. However, if I was going to be on a horse, I'd choose the 60mm as the size and weight difference is small and would be offset by the gains in light transmission and resolution at dusk.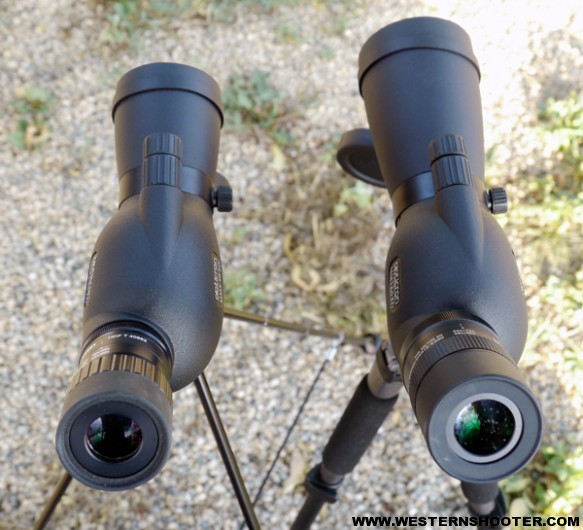 GLASS
I think both scopes have fantastic glass. During my testing with good light, both MM3's resolved as well as the 80mm Sightron on the same power. During lower light testing they weren't as bright but that's' to be expected when compared to a much bigger objective. Both of them had good glass to the edges with a minimal amount of chromatic aberration.   When looking through the scope the colors and contrast are close to what  I see with my naked eye. Additionally, the scope is bright and useable all the way through the power range.
WATERPROOF/FOGPROOF
As per the manufacturer, the scopes are fully rain and dustproof.
WARRANTY/OPTICRON
Opticron has a Limited Lifetime Warranty that covers all optical and mechanical components as well as the outer protective armor. The warranty is transferable but the new owner needs proof of purchase and needs to register with Opticron.
Opticron is a UK based company that has over 40 years of experience in the optics industry. They have a U.S. based office so you don't have to deal with them in the UK. They have a good reputation among bird watchers around the world and are just beginning to get into the U.S. markets for hunting.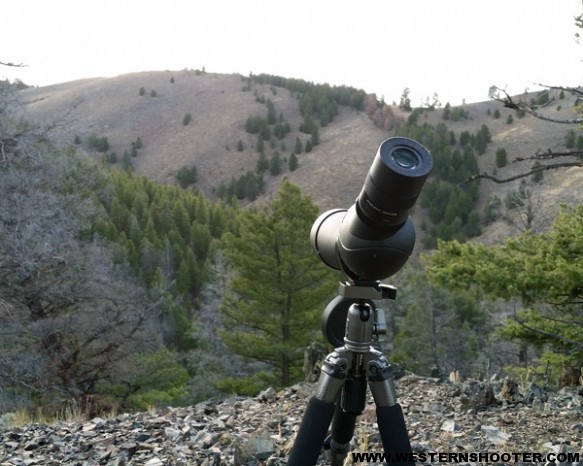 CONCLUSION
The Opticron MM3 is small, lightweight, has a removable eyepiece, has an excellent focus system, great glass, and is a good value for the money. When compared to the Vortex Razor HD 50mm, the 60mm MM3 outperforms it and I'd give the edge to the 50mm MM3 due to better eye relief and less chromatic aberration around the edge of the glass. The resolution and low light performance between them are very similar and are too close for me to call. Both the Opticron MM3 50mm ED and the Vortex Razor HD 50mm are nice scopes but I think the MM3 is a little nicer. All of them performed better than the Leupold.  Using the Opticron MM3 during the 2014 hunting season, my hunting partner and I were able to successfully judge deer and elk from great distances without spending the time to get closer. If you need a small, lightweight scope with good eye relief, you can't go wrong with either of the Opticron MM3 spotting scopes.
Visit Opticronusa.com