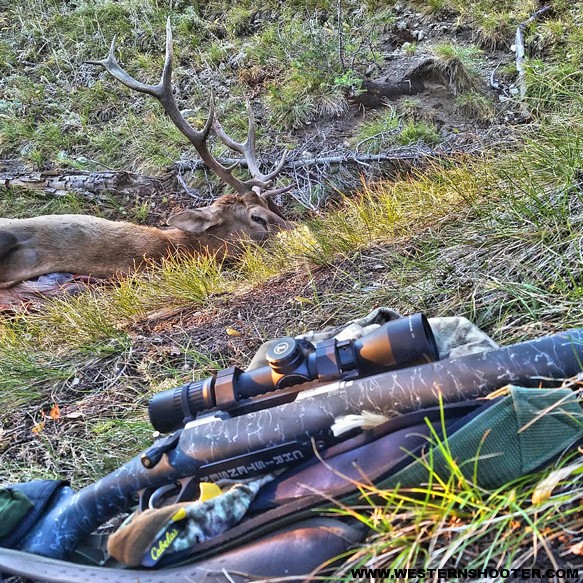 Last year I decided I wanted to hunt with a lighter long-range rifle. My first thought was to build one because I've had success doing it in the past.  I soon realized I was going to spend over $3500 in order to build a rifle that weighed in around 6.5 lbs. and that was still capable of consistently making a 1000 yard shot on game.  
Bennie Cooley, a personal friend of mine and legendary rifle shooter (seven-time international long-range rifle champion), suggested that I check out the Christensen Arms line of rifles.  He told me that he was shooting them and that they were shooting phenomenally.
The next time I was at my local Cabela's I checked out the line of Christensen Arms rifles and was impressed. After doing some homework and putting a pencil to it, I determined that I couldn't build a lightweight rifle cheaper than I could buy a Christensen Arms Ridgeline.  Additionally, when building your own rifle you run the risk of spending money on expensive components with no guarantee that it will shoot well. The Christensen Arms Ridgeline came with a sub MOA guarantee.  To make a long story short, I bought the Christensen Arms Ridgeline in 28 Nosler and could not be happier with it.
Christensen Arms is a bi-product of the aerospace industry, an industry that they are still very involved in. They were the first company ever to produce a carbon fiber barrel and are still at the cutting edge of carbon fiber technology. Some will remember that years ago Christensen Arms offered a service wherein they cut down customer's barrels and wrapped them in carbon fiber. The process isn't magic and some of the barrels didn't shoot well afterward.  Wrapping a cheap, half worn out, 2 MOA factory barrel in carbon fiber won't magically turn it into a tack driver. They no longer offer the service or carbon wrap any barrels except the ones made in-house. However, they are still plagued by people like me who remember that they used to offer the service and that don't know they now make their own barrels.
Today, anything you buy from Christensen Arms has at least a sub-MOA guarantee and many of the models carry a ½ MOA guarantee.  That's an impressive feat for rifle's that are extremely lightweight.
BARREL
Christensen Arms currently makes all their barrels in-house, meaning they buy 416 Stainless steel bar stock, drill it, contour it, add riflings, and hand lap every barrel. They made a huge investment in top of the line machines. All barrels used on rifles or sold as blanks are select match grade and are air gauged with tolerances typically within ten-thousandths (.0001). All the barrels are double stress relieved (once as bar stock and again after riflings). All chambers are cut with JGS match minimum diameter reamers.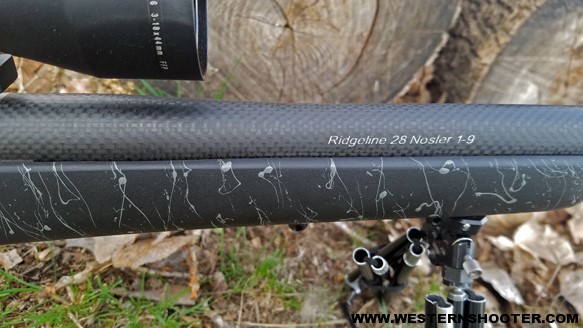 The carbon fiber isn't just glued to the barrel. There is an actual engineered layup that is designed to control harmonics, reduce stringing and move heat away from the throat and chamber area.  In other words, the carbon fiber isn't just to add mass after contouring a barrel down.
Incredibly, carbon fiber distributes heat directionally faster than any other material including aluminum. The heat moves directionally with the fiber, much like an electrical wire.  Resins are what hold the carbon fiber together and they can have an insulating effect.  Due to the process that Christensen Arms uses in laying their carbon fiber, heat is pulled from the chamber and throat area of the barrel. Christensen Arms claims that their carbon fiber wrapped barrels may last up to 25% longer than their steel barrels due to the engineered carbon layup and resulting heat transfer. Barrel life is a very subjective topic but everything else being equal, the carbon wrapped barrels should last longer.
The amazing part is that you get the exact same barrel (not a lower grade) on a Ridgeline that you would get buying one of Christensen's $5000 models.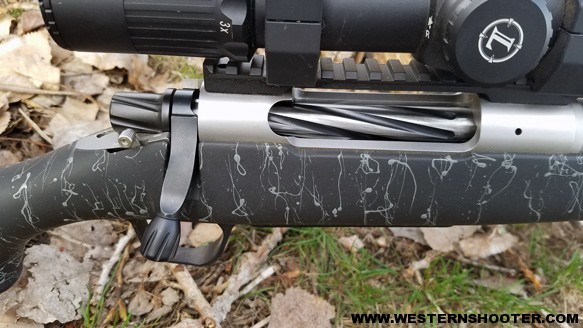 ACTION
The Christensen Arms Ridgeline action is a custom 416 stainless action with a stock footprint similar to a Remington 700. All the Christensen actions are machined in-house. Thread to center bore, the actions hold better than three-thousandths (.003) tolerance.  The magnum bolt has dual ejectors, which help ejection on the bigger calibers and which help keep from beating your scope with brass. Bolts are made from 4340 steel, are fluted and coated with black nitride. The bolt also features an AR/M16 style extractor, which is a great upgrade in extractor reliability.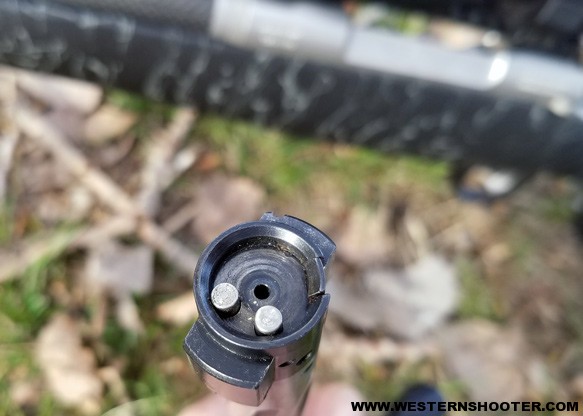 The action comes with a picatinny scope mount rail.
TRIGGER
My Ridgeline rifle came with a TriggerTech trigger installed from the factory. It's the one component not made by Christensen Arms. It's a great trigger with some interesting features. The trigger is very resistant to dirt and lock-up due to debris. Also, it has the ability to adjust the pull weight while the action is installed in the stock by using an allen wrench.  The adjustments are similar to a scope turret. They "click" and each click is equal to approximately one (1) ounce.  The trigger feels great right out of the box and I didn't make any adjustments to mine.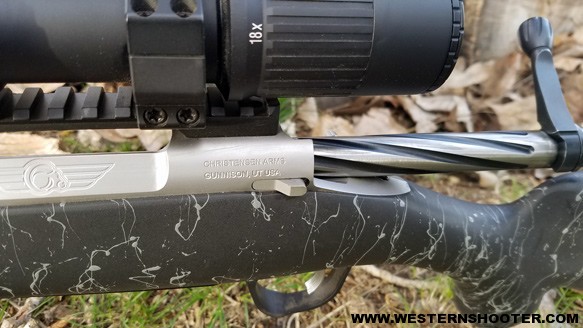 STOCK
By now you should be wondering why the Ridgeline costs less than the other models of Christensen Arms rifles. It has the same barrel as the $5,000 models and a custom action. The major savings on the Ridgeline come from the action being made of stainless steel rather than titanium and from the use of a less expensive stock.    The Ridgeline stock is a carbon fiber and fiberglass composite stock and it costs less to produce than the other Christensen Arms full carbon stocks. Also, the stock doesn't come fully bedded to the action like the more expensive models. It is, however, spot bedded around the recoil lug.  In my opinion, the bedding is critical to consistent accuracy, so I highly recommend that you do what I did and full-length bed before you mount a scope.  It's the only major difference (that might matter to accuracy) I can find between the Christensen Arms rifles that are guaranteed ½ MOA and the Ridgeline that is guaranteed one MOA. Even though the Ridgeline stock isn't as nice as the more expensive CA models it's still a very good stock. It's very light, very stiff and it fits me well.
The stock doesn't use standard aluminum pillars but uses invar pillars. Invar is a high nickel content steel that doesn't contract/expand the way aluminum does during temperature changes. I also drilled my stock and mounted flush mount QD's on the left side of my stock.
BOTTOM METAL
Like everything else, the bottom metal is made in-house at Christensen Arms. The bottom metal on the ridgeline is aluminum and has a hinged floor plate allowing you to unload the rifle without cycling the action. My 28 Nosler holds three rounds plus one in the chamber.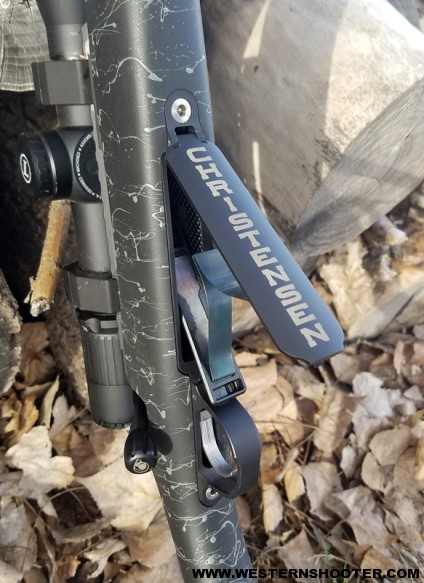 MUZZLE BRAKE
Recoil is the enemy. It causes pain and discomfort and eventually it will make the best shooters develop a flinch, which will ultimately affect accuracy. Also, if you shoot long range you need to have the ability to spot your own shot. The Ridgeline comes with a very effective radial brake installed that will help with all of the things I just mentioned. Radial brakes are effective but if you shoot near the ground (prone) they have a tendency to blow dirt, dust, snow, pine needles and other rubbish everywhere.  I replaced the radial brake on my Ridgeline with a Christensen Arms side baffle brake.  The barrel is threaded 5/8 -24 which is a common thread that will fit many brakes and most suppressors.
GUARANTEE
As I've already mentioned, the Ridgeline comes with a sub MOA accuracy guarantee. If it doesn't shoot one MOA or better, Christensen Arms will replace the barrel or gun. They test fire every tenth Ridgeline for accuracy and all of them for function. Christensen's ½ MOA rifle models are all tested for accuracy.  Christensen Arms uses match grade ammunition for testing and you shouldn't expect match grade groups without using match grade ammo.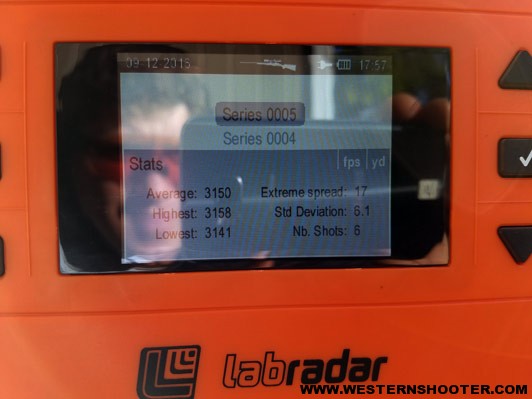 My 28 Nosler Ridgeline shoots under ½ MOA. My handloads use Nosler brass, CCI Magnum Primers, Retumbo powder and Hornady 175g ELD's.   The very first load I tried shot fantastic and I haven't messed with it since. My extreme spreads and SD are very low, especially considering the case capacity of the cartridge. I just ordered some of the new Hornady 180g ELD's that have a b.c. of .796 and am excited to try them.
The Ridgeline is an outstanding value. MSRP on Christensen's website is $1995. You're getting a custom action, custom match grade carbon fiber barrel, custom trigger and an excellent stock for a bargain price. On top of that, you're guaranteed to have a rifle that shoots well and that won't break your back carrying it around.
About the Author:
True is a competitive shooter, firearms instructor, Cabela's Pro Staff, hunter, and practicing attorney. He's a sponsored 3 gun shooter but has also competed in other disciplines including long range F Class, USPSA, and IDPA. He's also an avid hunter and tries to be in the field whenever he's not teaching or competing.
You can follow True on Social Media:
Facebook
Instagram
YouTube
TruePearce.com
 ***In the spirit of full disclosure, readers should understand that I (the author) am a sponsored 3 gun competitor. However, I'm not sponsored by the company that made the product being reviewed, leaving me free to give you my unbiased opinion. Also, I paid in full for the product and am not being paid for the reviews I've written.