Tactical Solutions introduced a .22 speed loader at the 2012 SHOT Show for  Ruger Mark (series)  semi-auto pistols, Browning Buckmark semi-autos, and High Standard semi-autos.  This nifty device will make loading magazines much easier as it holds down the spring while you place shells in the magazine. Kids should now have no problem loading their magazines with the assistance of this handy tool. Watch the video below to see how it works.
Just when I'm convinced that innovation in the world of AR's is cosmetic or limited to new finishes, JP Enterprises invents something revolutionary. I haven't had a chance to test it yet but JP's new JPSCS (Silent Captured Action Spring) is on my short list of things from the 2012 SHOT Show to try. John Paul tells me the silent action spring gets rid of all the mechanical feeling of the bolt moving in an AR. He described it as similar to shooting a bolt-action. JP rifles with the Low Mass Bolt and Buffer system are already pretty amazing. In fact, it's  hard to believe that they could get any better; however, this JPSCS is not only supposed to improve on how  a mil

Continue Reading »
One of the most exciting things announced at the 2012 SHOT Show was Mossberg's new 930 Jerry Miculek Pro Series Tactical Shotgun. It comes out of the box ready to shoot competitive 3 gun. To be completely accurate Mossberg announced 3 new 930 models: a 22 inch 8 + 1 JM Pro Series, a 24 inch 9+1 JM Pro Series , and the 26 inch 12+1 Patrick Flanigan Pro Series.
All of the new Pro Series guns have the following features that make them an excellent option for competitive or tactical shooting:

Continue Reading »
If you shoot a lot of pistol ammunition there is a good chance you will shoot cast lead bullets out of your gun at one time or another. Cast bullets can save you a lot of money. Unfortunately, when you use commercially cast bullets they can leave lead in your barrel that is hard to remove. This is a procedure to remove lead out of barrels that works very well.
A solution of 50% hydrogen peroxide and 50% white vinegar reacts with lead and eats any lead  in your barrel within 2-3 minutes. It is important

Continue Reading »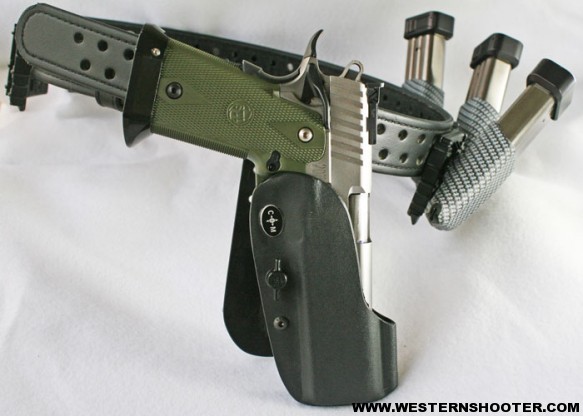 While shooting the MGM Grand Nationals I used a handmade Center of Mass (COM) kydex holster and mag pouches. The model of holster I tried is both dropped and offset for crazy fast draws. Additionally, the holster is cut extremely low in the front to aid in clearing the gun even faster.

Continue Reading »